Beard trimmers add a lot of convenience to your morning shaving routine and allow you to keep your clean-shaven look without going through the entire process of shaving with a razor. But what about all of those pesky cuts that you get from shaving in a rush? Do beard trimmers cut skin?
Technically, beard trimmers can cut skin, but it would require you to apply excessive pressure to your skin because they're designed not to cut the skin. Instead, their oscillating razors and semi-rotational mechanics protect your skin from cuts while efficiently removing hair to a length of about 0.5mm.
The motors used in beard trimmers create an oscillating motion with two blades. This means your skin is protected from the cutting motion used to shave hairs, and you can avoid making the rare mistake of cutting your skin with beard trimmers by understanding exactly how it works.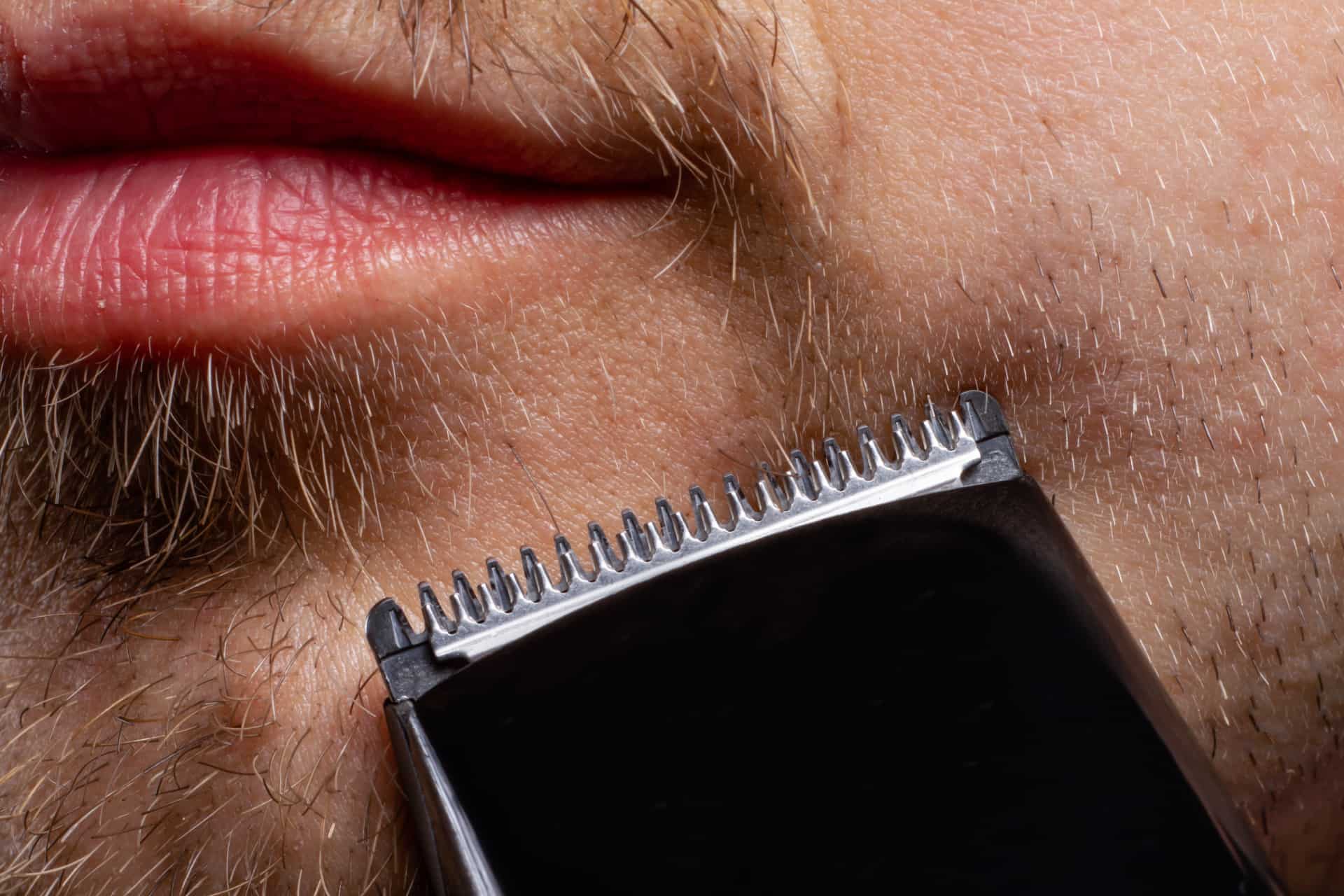 Skin Friendly Beard Trimmers Design
Being clean-shaven is my personal preference for facial hair styles simply because it's comfortable, and the maintenance is far less complicated than growing out a beard. But it does come with two significant disadvantages: it's time-consuming, and it's very easy to nick, cut or damage your skin.
Shaving with a razor can cut your skin because its blades are designed to take all hair off your skin, right to the roots. However, electric beard trimmers are designed to leave a small amount of space between your skin and the point at which it cuts the hair. So you won't quite achieve that clean-shaven look, but you'll get a light stable that nobody would notice.
A beard trimmers' semi-rotational mechanics allow it to take the two blades, which have "teeth". The lower blade (which presses against your skin) remains motionless, while the upper blade moves from side to side. When the upper blade's teeth catch hair as it slides across the lower blade's teeth, resulting in a neat cut.
A beard trimmers' semi-rotational mechanics allow it to take the two blades, which have "teeth". The lower blade (which presses against your skin) remains motionless, while the upper blade moves from side to side, so don't rest on your laurels and continue to exercise some degree of caution. To avoid this, you need to learn how to use beard trimmers.
So, effectively, if you're wondering if beard trimmers cut skin, you can rest assured that you're unlikely to pick up any of those inconvenient cuts. Here's a short guide on how to use your beard trimmers properly without cutting your skin:
How To Shave With Beard Trimmers Without Cutting Skin
Using beard trimmers is very easy, especially if you want to have a bit of stubble and don't need to put much thought into shaping/sculpting.
Firstly, do some research and find out what the suitable beard trimmers for you are. Beard trimmers range in price and features, and you want beard trimmers that are powerful enough to give you a clean shave. Bear in mind that it will be worth the price because the blades need to be changed far less frequently than a razor's.
And beard trimmers have multiple functions. They can give you so much more than an almost-clean shave. You can cultivate a stylish beard for yourself if you please; you can trim your nose hair, and they're also suitable for shaving body hair. So, it's going to be worth every cent.
Once you've bought and unpacked your new beard trimmers, you're going to want to arrange its accessories, such as guards and nose hair trimmers. Trust me, I know it's tempting just to leave your beard trimmers and their accessories lying around, but you'll thank yourself in the future because the parts tend to go missing very easily.
You should invest in other products such as aftershave balm for a clean shave and oils and waxes if you plan on growing out your beard.
Shaving is easy enough if you're going for the thin, stubbled look and is pretty much effortless. However, you need to gently press the blades against your skin rather than force it to get right down to the roots. Also, be very careful and precise when shaving your adam's apple, below your earlobes, along your jawline, and anywhere near your lips. Most shaving cuts with beard trimmers will happen along the lips – don't get too enthusiastic when shaving your mustache.
Shaving a full beard is more of a challenge; it requires you to start long and finish short, sculpt, wash, exfoliate and use techniques to snip stray hairs off with precision. But fortunately, just like a clean shave, beard trimmers won't require the same clean-up routine as using a razor. Nonetheless, you should put some effort into keeping your beard trimmers well maintained.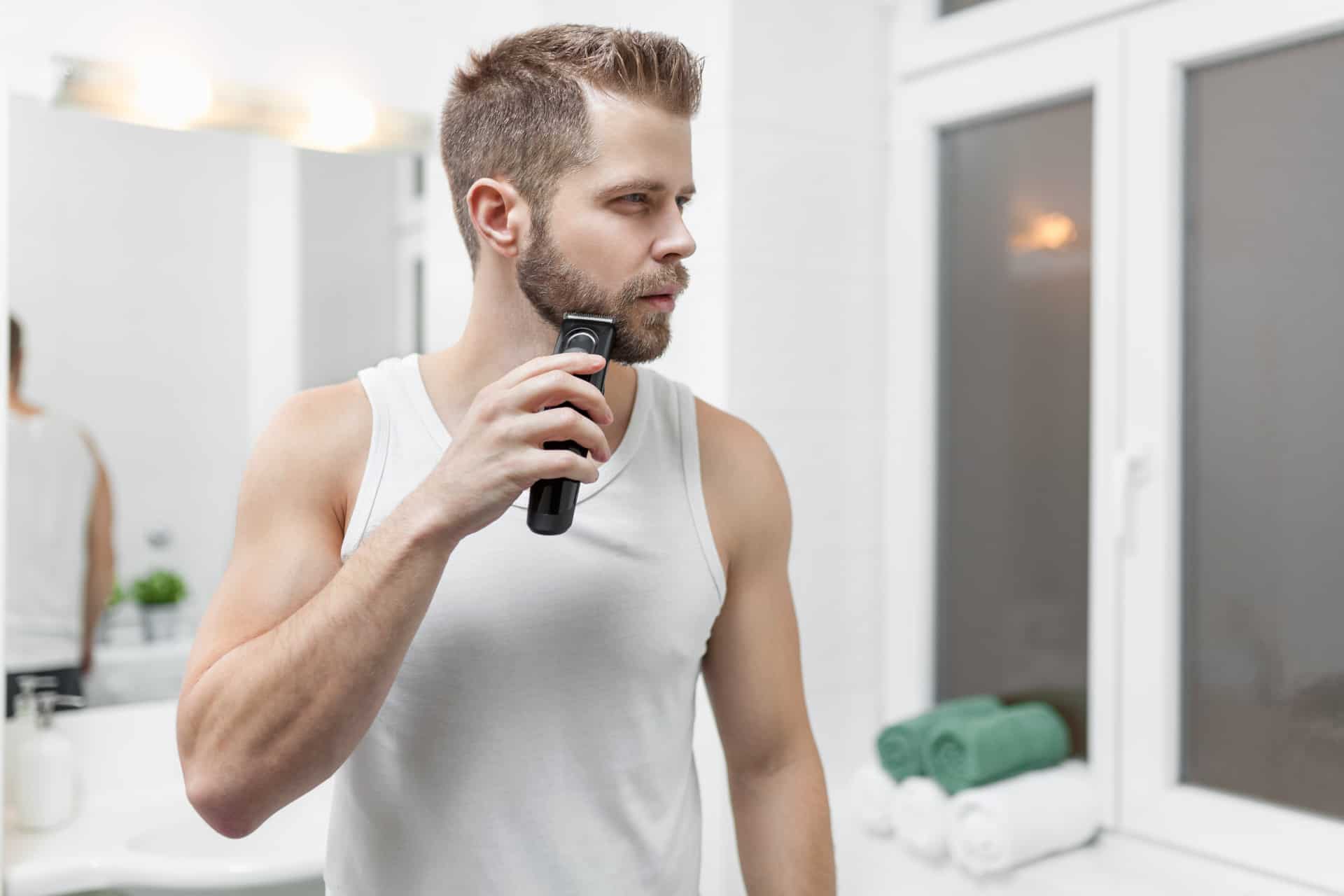 Beard Trimmer Maintenence
Clear up the hair left behind on your beard, trimmers from your shave. You can do this by removing the guard, rinsing it off with water, and using the brush that came with your beard trimmers to get between the blades' teeth and brush away any residual hair.
Finally, you need to oil your trimmers (which you should also do before you shave). By lubricating the blades, you can avoid any damage they may do to each other, adding to your beard trimmers' longevity and allowing it to be in working condition to give you the cleanest possible shave. Once you've applied oil to the razors and have run it through them for about 20 seconds, clean off any excess oil with a paper towel.
However, your blades do have an expiration date and will need replacing from time to time. For example, if you're getting your hair caught in your beard trimmers, it means that the blades may be blunt and require a replacement. Or you can just invest in new beard trimmers. Blades should last for years, however.
Furthermore, if you're taking your beard trimmers with you on your travels, you need to avoid accidental activation by turning on the travel lock. If your trimmers are running in your bag, it'll shorten their lifespan and can do damage the surrounding luggage.
Finally, you should always use your beard trimmers when they're fully charged for the best shave. The battery needs to be working to its full potential, and if they're taken off of their charging cycle too early, it can affect their battery life. And shorter battery life could leave you in a half-shaven beard situation.
Conclusion
Beard trimmers are such an excellent addition to your grooming kit, not only because they can cultivate your facial hair at any length but because they're so much more convenient than razors. And, if you're shaving your beard correctly, you will not cut yourself, but you may get a slight nick here or there if you're overzealous.
With the proper technique and by maintaining your beard trimmers well, you should be able to get the look that you're trying to achieve with little to no fuss at all.
Sources
How trimmer works: An understanding | YouTube
Why don't trimmers cut the skin? | Quora
do trimmers cut the skin? | Acne.org
How to Use a Beard Trimmer | wikiHow
Priming and Trimming: 4 Ways To Maintain Your Trimmer | Wahl USA