The act of going out to find something hidden, something that few people even know about, is a part of the human condition. We love finding things, things that only we know about, and geocaching is the modern-day equivalent of finding hidden treasures. This means that doing it for the first time can be daunting, and you may be afraid to do it because of your data constrictions.
Geocaching uses around 500mb of data for one full day of searching, and usually, a lot less if you only go searching for one cache at a time. The maps and applications are all made to use as little as possible data, and sometimes even being built to use no data at all.
However, there are a few things that you will need to know before making your first trip out into the world to find your geocache. Some of the things you will need to know are how the apps work, what you can use if you have no data, the best ways to find a geocache, and a list of must-haves when you go out into the world to go hunting.
Here are the do and don'ts of basic geocaching and how much data you will need:
How the applications work
There are a lot of different applications that you can use for geocaching; some have exact locations, whereas others only lead you to a general location.
The most well-known app and the easiest one to use is simply called Geocaching. This is the app associated with the very first creators and producers of the hobby.
It is available on both the Apple iTunes Store and the Google Play store. Relatively intuitive, the app marks and leads you to where most local geocaches are. You simply select the one you want, and it will plot a route for you, leaving the final part of finding the cache up to you. However, this doesn't exactly explain how it works or how it knows where to find it.
When a new geocache has been created, the creators of it mark the location on one of several central databases. They usually give a set of instructions and clues as to where to find it. The databases then upload these instructions and clues to various apps. Once a cache has been marked, the app will share that information with others.
Using a combination of exact longitude and latitude spots, and the integration of google maps, the applications remember and store the location of the new cache. When others then go to find the cache and leave behind their little part, the applications update, and the next visitor will be able to find the cache more easily.
Can you geocache without data?
There are many challenges that you can set up for yourself while geocaching, and one of the first ones people like to do are not using the apps as guides. Every geocache location has its exact location marked on a map, with the right longitude and latitude marked on them. This means that if you want, you can use a simple map to find them.
This is precisely what it sounds like too.
Many people that do geocaching love exploring new areas and walking as well. This is something that can easily allow you to use traditional tools, like a map of the area, and a compass.
This adds a whole new level of mystery and means that you can easily go exploring and maybe even get lost while looking for your next geocache.
Not using an app, and therefore not using data, will be challenging when you first start doing it but promises to add a whole new level of mystery to your geocaching experience.
Note: Find out here if it's worth paying for Geocaching.
The best ways to find a geocache
While the applications and maps can tell you where the geocache is, you will regularly find yourself standing in an often-wooded area that looks entirely normal.
This is because geocaches are not left in the open for almost anyone to just stumble upon. Easy to find geocaches would mean people and wildlife could stumble upon them and cause damage.
You can also check out our article on "How To Know If a Geocache is Still There: 7 Tips & Tricks."
Here are several things you need to know when you go out looking for your first few geocaches and the tricks to finding them:
Expect the unexpected: There are very few caches that you will encounter that can be found in the most obvious spot of where you would be looking. Getting to the geocache is just the first step and can involve climbing up mountains, waiting for events to start so you are granted access, or even asking landowners permission to enter their property.
Hidden places: Many geocaches are hidden in nooks and crannies for their safety, in the bends of trees, under rocks, or sometimes even closed-off boxes. This keeps the geocache safe and means that you can have a bit of fun hunting for your target. 90% of the fun of geocaching is finding where it is hidden away.
Not exact locations: While the apps do store the exact locations of the people that first placed the geocache, this is not always the exact location of the cache itself. Sometimes you may have to start searching in a radius of where it is said to be. A general rule of thumb though, is that the cache will be within a 50-foot radius of the marked location.
Talk to other cachers: This is the social aspect of geocaching because it is a voluntary thing; you will find that the community is extremely friendly. If you are stuck and unable to find a certain cache, you can easily ask for help, past explorers may offer some advice, and you may even find yourself going as a group to find something new. Being social is a massive part of geocaching and meeting new people is always amazing.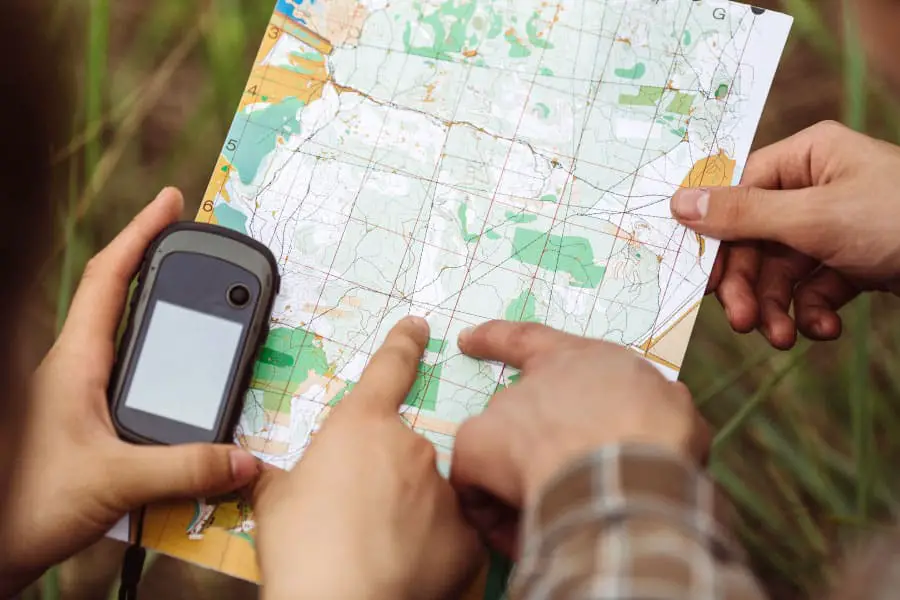 What to have when you go geocaching
This is as important as everything else that you need to have when looking for the geocache, taking care of yourself, and being prepared for most things that could happen, will save time. However, the list is like other kits recommended when exploring with only two weird additions.
Water: You're going to be hiking, walking, and even climbing for a few hours, so having enough water to keep yourself hydrated is of the utmost importance.
Communication Device: This is always important to have. A cell phone that is fully charged and has a secure connection is vital to ensuring you stay safe when something goes wrong. It may even help you if you get lost, which is entirely possible if you are using a map and compass.
Proper Clothing: Whether you are exploring a mall or hiking through the woods, you need to ensure you have the right clothes and shoes for the job. Make sure you don't get waylaid because you got tired of walking or even getting hurt because of something hurting you through clothing that is not thick enough.
A backpack: You're going to be walking a lot, so having a backpack with everything you need in it will ensure that you can easily carry everything you need without worry. You would be surprised how many first-timers try to go hunting without a proper bag.
A pen: Every geocache has a little book in it; this is to mark who was last there and when. When you find your cache, be sure to make your ink marks, saying hi to the next hunter.
Trinket: Most caches are little boxes of some kind. In them, you will find the book and something left behind by the previous hunter. It is not mandatory but taking that trinket and leaving your own is one of the most rewarding and exhilarating experiences you can have while geocaching.
Conclusion
Geocaching is a practice that has been going on for a while, and many people around the world enjoy doing it as a weekend break from the hustle and bustle. It's a hobby that is both rewarding and extremely healthy, letting you and your friends get out into the fresh air.
Or maybe you just want to escape the world and be alone for a while. Geocaching is the perfect way for you to enjoy life in a new, low-cost way!