When you start your journey of exploring the urban environment around you, there will be certain things and rules that you will need to know. When you finally explore your first abandoned building, you'll find yourself wondering and marveling at the way it looks. If you do it with friends, you'll even be tempted to take something cool from the building as a souvenir.
It is almost always frowned upon to take something from an abandoned building, even with a place that has been abandoned for years, as it still belongs to someone. Many first-time urban explorers find themselves conflicted with this question, not being sure if they can take a cool looking pad, pen, piece of chair, or even just part of a sign when they go exploring.
There are dangers and, therefore, rules that must be followed when you go urban exploring. These rules are sometimes extremely obvious, while others are less well known. Getting to know a building and leaving as little trace of yourself there when you leave is always important. The unwritten rules for urban exploration also differ from place to place, with many changing depending on the country.
Here are the things you should know about leaving, taking, or even just changing abandoned buildings that you go out exploring.
Leave nothing behind
Just like nature explorers and geocachers, many urban explorers believe in leaving no trace of themselves in the places that they do explore. This is one of the first rules that should be learned when you plan on starting to join the urban exploring world. Many times, some buildings are only closed because people leave their trash behind.
There are two rules that you should know about not leaving anything behind, which is universally accepted in all communities that like exploring.
No trash
Even if you are eating a five-course meal in the middle of the largest abandoned building in your country, you should never leave any trash behind. Many explorers prefer to make it as secret as possible that they were even close to the building that they went exploring. This means that they won't leave papers, bags, or any other piece of trash, even in a trash can.
This is one of the strictest rules that urban explorers follow. Many places that are fascinating have become locked down because too many people started littering on the property or inside the building.
This can cost governments or property owners a lot of money to fix, which usually means they increase the security at these places.
Never leave any trash; a place should be left in the exact condition that you found it in.
No changes
This is not always easy to follow, as some abandoned buildings may require you to bend a few rules to gain access. Some of the most amazing places are usually behind boarded-up doors, which means you will have to remove a few blockages to gain access.
However, this is where it should end, just as you are amazed to see large glass chandeliers still hanging, or beautiful art pieces still standing, the next explorer should be awed by the same sight.
This means that you should preferably not leave any spray-painted tags or break anything inside the building. Many explorers keep the locations of abandoned buildings a secret specifically because some people cannot control themselves, and inevitably see how much they can break.
However, be warned, other urban explorers will contact the police if you partake in acts of vandalism of any kind.
Asking for permission
This may seem counterintuitive at first, but you can almost always ask permission to enter an abandoned building that is clearly owned by someone.
Getting permission makes it a lot more legal and may even mean you can take a souvenir if you can find something interesting.
However, there are three types of abandoned buildings, ones that sit on private property, some that are on public-owned lands, and some that are genuinely forgotten, and no one knows who owns them.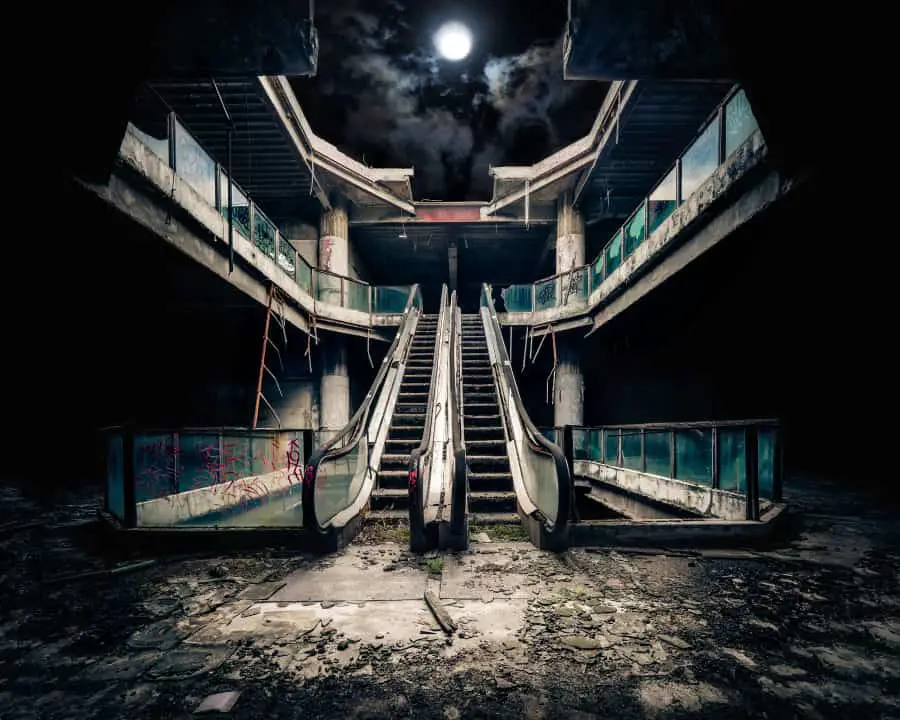 Private properties
Finding a landowner can be quite simple sometimes, and at other times quite challenging. This is because some abandoned buildings are located close, or relatively close, to whoever owns it.
These would be smaller buildings, malls, or office blocks that have either reached the end of their life, have gone bankrupt, or are just so old no one wants to use them anymore.
These property owners may be a lot more willing to let you into their abandoned properties if you make it clear you won't blame them if you get hurt. Having permission makes exploring abandoned buildings a lot less stressful and means you can take your time to see every nook and cranny of the building.
Just be sure that you don't get lost, sometimes abandoned buildings can become a maze.
Public Lands
Getting permission to enter buildings that are on public lands can be a lot harder. This is because the governments of most countries prefer not to let anyone enter dangerous locations, which means that most public abandoned buildings require that you do a bit of sneaking to reach your goal.
However, some of the largest buildings in the world are government-owned or former government buildings. This means you can see some of the creepiest and amazing things hidden away. Sometimes asking for permission is not the urban exploring way.
What you should bring with you
Whenever you go exploring, there is a short list of things you should always be taking with you, whether you're visiting an old house or one of the world's largest malls.
Head Protection: This includes masks, goggles, hard hats, or helmets to ensure that anything that is loose and could fall on you won't hurt you. However, you should always wear a mask, as the dust in abandoned buildings can contain anything from simple mold to asbestos.

Pants: Urban explorers never go exploring with shorts and sandals. You never know what dangerous materials you will be walking over, and keeping your legs safe with a simple pair of jeans will never be something that you regret doing.

Spare Clothing: You will get dirty; this is an irrefutable fact of urban exploring. Even the easiest of entrances will require you to do some crawling. Once inside, you will walk through puddles, dust clouds, and a multitude of other things that will dirty up your clothes. Having an extra set in your car or backpack will save you loads of time.

Lights: Many people think that they can go exploring with a simple phone flashlight; however, this is not only dangerous, but it means that you would be draining the power from the only contact you have to the outside world. A proper flashlight will help you see in even the darkest of places and let you safely navigate a world of darkness.

Backpack: You may think you don't need it, but you'll find having even a small backpack will mean your hands are always free to help you navigate. It's also the perfect place to keep some food and the all-important bottles of water. Backpacks are a must-have for all explorers.
Conclusion
Whether you are just starting your journey in exploring or you are a master of the places around you, there are several rules that you must always follow. Getting the rules right and never leaving a trace of where you've been will mean you and your friends can continue to explore safely, not taking or leaving anything.
So go out and be like a ghost, seeing things no one else has seen but being nothing but a memory for the building!
Feel free to check out our article on "What You Must Never Do In an Abandoned Church."