When the beard gets longer, the nose starts itching, and the trimmer starts buzzing, you cannot be found at fault for thinking it may well be worth it to shave your head as well. Many beard lovers slowly start losing hair at the top of their heads, which prompts them to go fully bald when it comes. Otherwise, it might just be that super-stylized hair is the way you want to go. Either way, the question will be there if you can use the same trimmer for both?
If your head already has short hair, you can easily trim, style, or shave your entire head with a beard trimmer. The beard trimmer can easily cut through the thinner hair of your head, with the blades only heating up if you allow them to get filled with loose hair. It is important to remember that the beard trimmer will cut a lot closer to the skin as its attachments are meant for styling short areas of a beard.
There are multiple things that you should still be considered when using a beard trimmer with your head. Most people easily make the mistake of thinking they don't need to adjust the beard trimmer at all. However, some oils and treatments will need to be added to your trimmer to ensure it can continue to handle the smaller hairs on your head. Before you cut a giant line through your hair, it is important to know the why and how of beard trimmers.
Why is it a Bad Idea to Shave Your Head with a Beard Trimmer?
You may hear this from people quite often, especially those who love to have prim and proper beards and controlled hairlines that can take forever to complete.
Beard trimmers can cause issues with your hairline, especially if you are trying to do it yourself. Beard trimmers may also quickly overheat when used for longer hair, possibly causing the trimmer to break while you are still busy trimming your hair.
For these reasons many believe that beard trimmers are awful choices to use when trimming and shaping your hair. The lack of control and overly short fittings will greatly decrease the overall size and shape of the hair you have. Usually, people that are using beard trimmers for their hair are not just using them to keep a shorter style, instead of relying heavily on them to go completely bald.
If you are not experienced in using either trimmers or shapers, we do not recommend that you grab the beard trimmer to do the styling on your hair. You will usually create more problems than you are solving, and even if you are going for a completely bald look, you may end up with harsh dividing lines between where your beard ends and your hair would have started.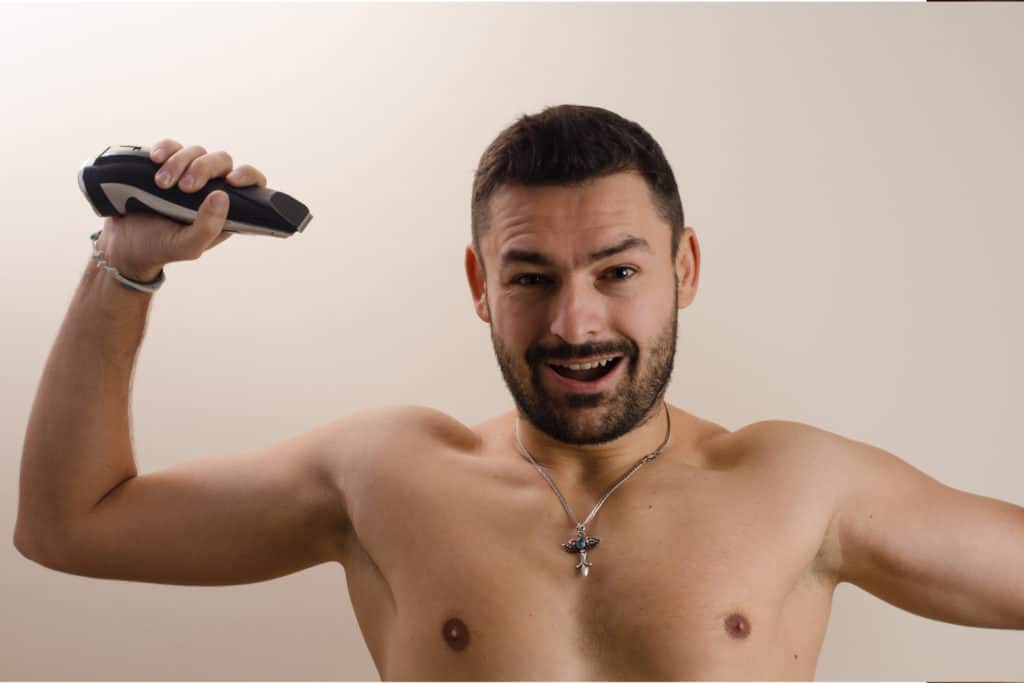 Why Would it be a Good Idea to Shave Your Head with a Beard Trimmer?
The simple answer is that it lessens the total amount of clutter in your bathroom and that if you know how to use the trimmer, it will be just as effective as a normal trimmer. Many people that shave their heads each morning have long since used electric razors to keep their heads shaven. While beard trimmers and grooming kits cannot cut nearly as much hair at once, they can easily keep your head clean-shaven.
Many beard enthusiasts will already have high-quality beard trimmers that they prefer to use each morning, making them perfect for keeping a short hairstyle or being completely shaven.
Beard trimmers offer complete control over the lines of your facial hair, which, if you know-how, can allow you to create smooth transitions between your beard and hair.
Many people make the mistake of thinking that extremely well-stylized men have some miracle tool that they use to get perfect hair each morning.
If you have a beard trimmer with multiple attachments, it is all you will need to get both the perfect hairline, the perfect beard line or be completely shaven. Despite the obvious advantages of using a beard trimmer, you would need to practice using them to shave your head effectively. If misused, a beard trimmer will leave some areas of the head unshaven.
What to Avoid When Shaving Your Head with a Beard Trimmer?
Now that you know why or not to shave your head with an electric beard trimmer, you need to know what can go wrong. This is what catches beginners off-guard as they fail to realize that changing what you are doing with your beard trimmer drastically changes the overall behavior of the beard trimmer.
You need to understand why the blades might be overheating, what happens to the blades, and why it can take so much longer for everything to happen. Many people forget that different types of cutters have different types of blade types and that many times beard trimmers are specially made for thicker hair. This means that thin hair on top of your head can clog the system, causing headaches and problems if they are not accounted for properly.
Overheating of the Blades
This is something that all-electric razers and trimmers have; the blades will get hot and cause skin irritation that needs to be accounted for. A beard trimmer used to shave your head is probably the most susceptible to this as the trimmer needs to be run a lot longer to cover the total area on your head. Usually, this means that people are also not accounting because the blades are running for longer, causing them not to stop and let the blades cool down.
Fortunately, beard trimmers are somewhat waterproof and allow you to dip the blades in some water to clean them. This will cool them down as well. Though we should add, if you head the blades sizzling when you dip them, it means you need to rethink the entire process. Overall, you will easily and comfortably use the trimmer to shave your head as long as you aren't allowing the blades to heat up too much.
Reduced Battery Life
It should be obvious, but it still needs to be said, using your beard trimmer for your head will cause the batteries to be extremely diminished. Many beard lovers quickly learn that just trimming the beard in the morning can take a few minutes, and the batteries can last for a month or more. However, when you start shaving your head with your beard trimmer, the work required from the batteries increases exponentially.
This is why you will need to ensure that your beard trimmer either has easy-to-replace batteries or that you can comfortably and easily recharge the trimmer. Some lower-end beard trimmers use normal AA batteries, which means you may end up spending more to keep them fully powered. At the same time, higher-end trimmers have rechargeable batteries that make the quicker use of power a non-issue.
Smaller Blades Overall
An important thing that should be kept at the back of your head when shaving your head with the beard trimmer is that the blades are smaller, both in surface area and in actual size. Beard trimmers have fine sharp blades perfect for styling most hair, and the smaller hair on your head will most likely clog up the blades if you are not cleaning the equipment properly.
This is why you should be careful not to cut hair long when using a beard trimmer, as this will cause your trimmer to have a much shorter lifespan. Further, the total area being cut is smaller, which requires more passes across the head to reach every part of your head, something some forget when they're styling hair. It is vital that you remember these, as a shaven head with one small part that is unshaven is hard to forget.
More Expensive Equipment
A haircutter meant for the home is not that expensive, it might not be as precise as your beard trimmer, but they are affordable. At the same time, beard trimmers are a lot more expensive and can require a bit of spending if you want to get the best on the market. Many salons have a beard trimmer that may interest you as well, but we recommend staying away from these as they are professional-grade equipment.
Instead, the beard trimmers you may find in shops or on Amazon are more affordable but are still expensive, ranging from $20 to $200. The more expensive a model is, the more versatile it will be, but it will also require a lot more work to ensure it always works the best. A great deal on a beard trimmer should never be scoffed at. This is part of why having a beard is never a cheap endeavor.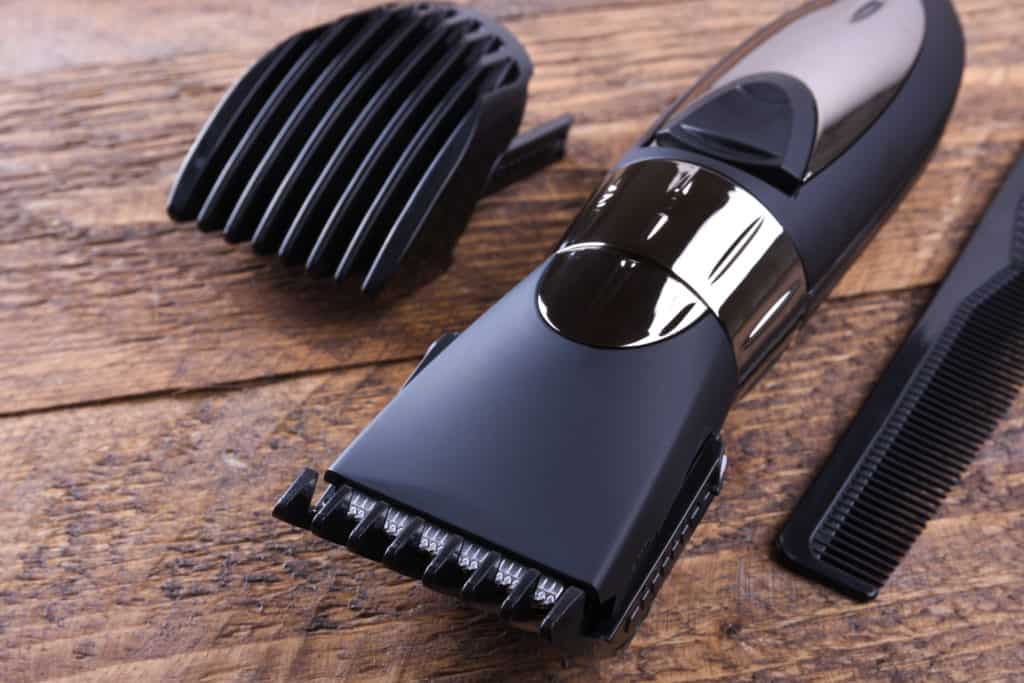 Which Beard Trimmers Are Best For Both Beard and Head?
Now that you know if you can or can't shave your head with your nifty beard trimmer, it is important to find one that might succeed. A surprising amount of people are not aware of the leading companies when it comes to hair care, assuming that some of the oddly named products are knock-offs. This is why we have gone through the long list of products on the market to find the best three for the situations you may find yourself in.
You must remember that beard trimmers are meant to be taken with you when traveling, unlike hair styling equipment. This makes selecting one based on how compact it is, how portable it is, and how easy it is to fix vital to ensuring your styling needs. While there are beard trimmers with many fancy names, fancy tricks, and fancier fittings, we know that these three are the best all-rounders.
Best Beard Trimmer For The Home
The Remington Men's grooming kit is possibly the best one you can find for your home usage. The small size of both shavers and the versatility means that you can comfortably add them to your bathroom vanity. We recommend adding this when you know your bathroom routine can afford to have a few extra minutes added onto it. With several attachments, different blades, and trimmers, you can use this bundle to do everything hair-related on your body.
We recommend adding this to your home as the kit costs a bit more than others but has everything you could need to groom yourself. A surprising number of people forget that they should be able to easily and comfortably do any styling they may need at home. This kit includes an attachment to the beard trimmer that specifically caters to shaving your head as well, saving you the trouble of having to hope it will work properly.
Best Beard Trimmer For Traveling
While having the best shaving kit for your home is vital, we know that it is unlikely you may always be at home when styling is needed. For this, we recommend the Braun MGK3980. It has the best overall attachments for your traveling needs. This covers everything from beard styling to head shaving without having to sacrifice the functionality of either.
It is also one of the few kits with a proper carrying case that will protect the shaver and the attachments from any damage that may befall them while tightly packed inside your luggage. We highly recommend having this kit in addition to the home kit. It will be easier to have this at the ready than having to clean and pack your main kit.
Best Beard Trimmer For Styling
There comes a time in all men's lives when they realize that looking okay is not nearly good enough; you need to be happy with how you look completely. For these moments, we know that having a beard trimmer that is simply adequate will not be enough, which is where the Philips Norelco Series 7000 comes into play. We recommend buying the normal home kit and traveling kit before you buy this, though, as the expertise needed can take a while to learn.
Philips has long been a leader in the hair and beauty market, and their knowledge of trimmers has made them create a complete beard and hair grooming kit that should never be disregarded. Once you have a beard style you are happy with and feel you are ready to do more than just running the blades through your hair, this kit will have every attachment and scissor you need to get the best possible look.
When Should You Consider Shaving Your Head with a Beard Trimmer?
Possibly the thing that most unshaven men wonder about is why a beard trimmer should even be considered for keeping your head shaven. We know through experience that looking at it from the outside that the art of keeping your head shaven and clean can look a bit silly. However, it should be noted that shaving your head will be a constant project that you take care of.
If you have a shaved head, it'll be fine to shave your head with a beard trimmer simply because the beard trimmer offers ease of use, is compact, and gives a great deal of control over the styling of all of your facial hair.
It can be difficult to get straight lines from traditionally head shavers as they prioritize speed and surface area over precision. A beard trimmer is almost the complete opposite to this, taking a bit longer and needing more care, but giving complete control over all hairlines.
We have learned through practice and trial that you will need to ensure that the beard trimmer is thoroughly clean and ready to achieve all you need from it. However, once you have the process under control, with each step coming naturally, you will easily be able to create any style and look you may wish to try, which is a great deal different from older head shavers that usually have only a few lengths, with short or completely bald being the only main options.
Conclusion
Using a beard trimmer on your head may seem like a novel and odd idea at first, but once you get the right tools and practice, you will find that it is the natural next step to grooming yourself. We highly recommend that you ensure that the beard trimmer has the right attachments and that you oil it properly. Apart from that, you can and should be shaving your head with the beard trimmer if you are considering a new look.
However, please make sure that you want to be bald or short-haired before you start. Walking around with a beard trimmer-sized gap won't attract anything but a hat!