Geocaching is one of the best adventure things you can do as an urban explorer, usually ticking every single box on the wants list for us. So, there will come a time after you've talked on the forums, explored the world, and when you've used the app enough that you'll be tempted into buying the premium version of the Geocaching app.
It is worth every cent you spend on the premium subscription of the Geocaching app, letting you see hidden caches and easily log new locations for less than $35 a year. The premium version of the Geocaching apps also enables the hobby to stay alive and continue to reach new adventurers around the world.
There are several things that you will only ever see when you use the premium version of the geocaching application. It's also important to know why you should pay for geocaching, what makes it worth using the premium features, and knowing just what the advantages will be.
These are the things that you get when switching from the free version of the Geocaching app to the premium version.
Why pay for geocaching
As someone living in the modern world, you will undoubtedly find yourself asking why you would pay for the premium version of anything. However, this is not how you should be looking at the premium version of the application.
There are multiple reasons you should be considering switching to premium, two of which are obvious, the low costs and the access to more accurate map locations.
Costs
Coming in at less than $35 a year, it is one of the most affordable and easy to accept upgrades of almost any app out there. Not only will you gain access to a whole list of premium features like hidden caches, but your app will also almost seem to upgrade. Letting you get more accurate data, seeing more wherever you may go, and even letting you go back to explore hidden gems you may have missed in the past.
The cost going to premium is almost infinitely small when compared to the value that you will be getting. You are bound to become even more addicted to the hobby and become more willing to go out and explore the world around you.
Maps
While the map that we all use will always be one provided by Google, the information that is displayed through the app will drastically change once you have the premium app.
Not only will you see many more caches hidden around the world, but the information displayed can be different.
This lets you explore and enjoy the world of geocaching much more, allowing you to easily discover places and things that have been hidden for years.
Keep it Alive
Because the app is mostly free and there is no need to pay anything to find most caches, it can be difficult for the community-run Geocaching application to stay afloat.
If you are extensively using the geocaching app on any platform, becoming a supporter is probably the best way to show your support.
Not only will this help the people that are maintaining the digital infrastructure of the app, but it also helps the app from dying. Meaning more people can later discover it and become geocache hunting addicts like the rest of us.
How to get free Premium
This may be shocking for those who paid without a second thought, but there are generally two ways of receiving a free trial period of the geocaching app. This lets new geocachers or those that were sitting on the fence easily experience all the added benefits of using the premium version.
Having a short trial is the perfect way for many geocachers to become acquainted with the world of premium geocaching. Many people that now use the premium version can barely imagine being restricted to the features that the free version of the app has to offer.
Ask a volunteer.

While you are talking to others on the forums, you will eventually encounter some of the volunteers that help keep the website and app running. This is never a sure-fire way, and going out of your way to approach them might be met with a rebuff.

However, sometimes if the right circumstances are met, a volunteer will send a link towards you through a direct message. This lets you test out the premium experience for one month, letting you easily decide whether you want to do the upgrade permanently or not.
Look for specials.

This is a bit more labor-intensive and means that you will have to do some research and even sit by patiently as the weeks go by. There have been rare events where you could win a few months of free premium on the geocaching app. Either through the app creators directly or through third party people that give it away as a prize.

Getting the right special for you and finding one that will still work perfectly for your geocaching experience is an easy way to have some extra fun.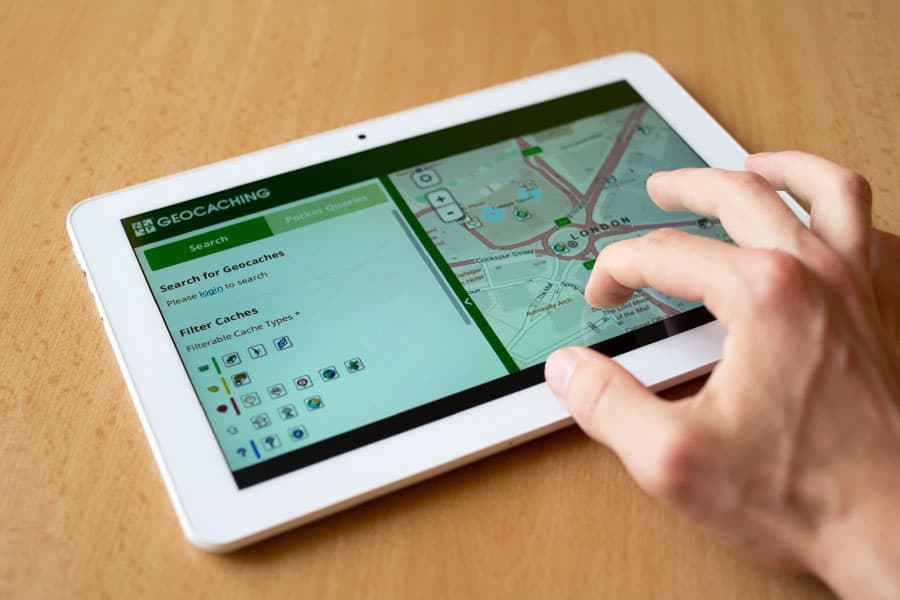 Premium Caches
Probably the biggest reason many people that go to the premium app keep paying is the sudden influx of access you get. Mostly to new premium caches that are only accessible to those that have the upgrade.
These premium caches have several things different to them that normal caches won't have, one of the most prominent changes being the difficulty rating that they have. Further, the sense of adventure is entirely different, purely because these types of caches can feel impossible to find.
Adventure
These are caches that are almost impossible to stumble upon, requiring that you actually go out and look in every nook and cranny to find them. You will have to hike up much taller mountains, go to much more hidden away urban areas, and, more importantly, discover many more hidden parts of the world for these caches.
This all means that you will go on much bigger adventures while looking for premium caches, letting you have just the best possible time you can while urban exploring.
Difficulty
Premium caches are difficult, in the sense that they require you to use every last inch of your imagination to find them. They can be hidden in impossible to think about locations, using tricks that you never thought would be possible, or even require you to go places you would never have gone before.
These caches are usually rated as the most difficult, requiring you to almost pull a full rabbit out of hats to get to them and put your name in their coveted logs.
Hidden
They are hidden, and on the geocaching app, you can always see some caches that you do not have access to. However, it isn't until you use the premium version that you will see how many caches you have been missing purely because you were on the free version.
These caches will all be unlocked for you once you have the premium version, and you will continually be finding more and more caches hidden around the world.
Conclusion
Going to the premium version of the geocaching application will easily let you get to experience the true mystery and beauty of what geocaching can be. Getting to the see some of the most hidden caches and logging your name in caches that almost no one knows about.
So go out there, get your premium app, and find the most difficult to find cache near you, while going on a full adventure!