There's no doubt that Jiu-Jitsu is one of the most popular martial arts in the world and growing. With so many celebrities getting in on the action, it has spread into the mainstream and inspiring so many to take up the martial art. So why is Jiu-Jitsu so popular?
Jiu-Jitsu is popular because of its fighting and self-defense techniques, philosophy, physical and mental health benefits, and every-day practical applications. There are also many celebrity practitioners of Jiu-Jitsu, which, along with UFC's popularity, have helped to popularize it all over the world.
Let's take a look at where it all came from, how it grew as a martial art into the popular sport it is today, the countries where it's most popular, and some of the many celebrities that practice Jiu-Jitsu.
Why Is Jiu-Jitsu So Popular?
Brazilian jiu-jitsu has been growing exponentially in recent years, thanks to the Gracie family and the UFC (Ultimate Fighting Championship), created by Rórion Gracie.
Brazilian Jiu-Jitsu's popularity grew a lot because of the UFC, which was still called a martial arts challenge, in mid-1993.
In this event, several fighters challenged each other, each representing their original martial art. It was kung fu vs. karate, savate vs. kempô, sumo vs. wrestling, jujitsu vs. boxing, among others. The winner of this tournament was a 26-year-old unknown named Royce Gracie, from the traditional Gracie family, who was the precursor to BJJ.
Since 1993, the world of martial arts has changed a lot, and Jiu-Jitsu has become very popular and continues to grow today all over the world.
Where did Jiu-Jitsu originate?
There is a great debate about the origin of Jiu-Jitsu and no consensus to date among several historians. There are some versions of the origin of Jiu-Jitsu.
The most widespread version is that Jiu-Jitsu originated in Japan. Another more in-depth version is that Jiu-Jitsu originated in India, where Buddhist monks practiced it. In this version, Jiu-Jitsu was taken to China and later to Japan by expanding Buddhism itself. Another version claims that Jiu-Jitsu originated in China.
Jiu-Jitsu appeared in Brazil in mid-1914, brought by the Japanese Mitsuyo Maêda, better known as Count Koma. Maeda visited several countries before arriving in Brazil, more precisely in Belém do Pará, where he held several demonstrations and fights. At that time, there was a lot of confusion about the name of the fighting style, even in Japan. The term "jujutsu" or "Kano jujutsu" was a reference to the technical part, and for the philosophical part, the term was Judo.
In 1925, Judo officially became part of the school curriculum in Japan. Maeda became friends with an influential businessman who helped him settle in Belém, who was Gastão Gracie. As gratitude, Maeda taught traditional Japanese Jiu-Jitsu to Carlos Gracie, Gastão's firstborn. Carlos dedicated himself to the new martial art and started teaching his brothers.
And the rest as they say, is history.
What is the primary philosophy of Jiu-Jitsu?
The philosophy of Jiu-Jitsu is based on intelligence, patience, and discipline. It is about knowing how to dominate your opponent or aggressor without knocking him out with brute force. However, this philosophical part is often forgotten, as people usually just want to take action before they even understand.
In Jiu-Jitsu, there are 3 main pillars:
The base: which are the legs and knees, and work the balance and support of the fighter.
Posture: which is governed by the head.
Control: which requires observation and the learning of techniques.
These 3 pillars are essential for the student to build a strong and dignified character so that intelligence can prevail over brute force.
This is all part of the philosophy of jiu-jitsu.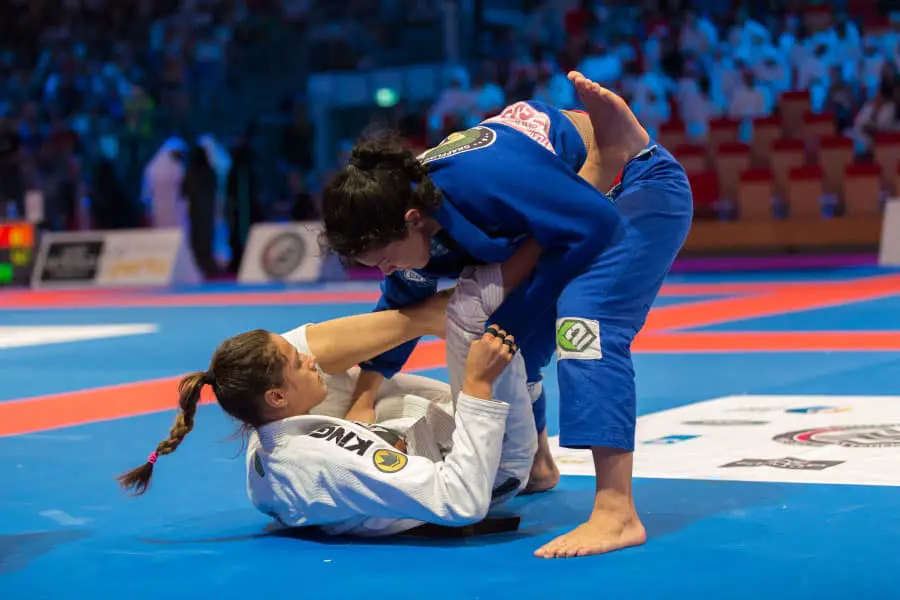 Is Jiu-Jitsu popular in Brazil?
Returning to the origin of Jiu-Jitsu in Brazil, the first Gracie school was founded in 1925 in Rio de Janeiro. Carlos and his brothers taught the Jiu-Jitsu they had learned from Maeda. Hélio Gracie, the youngest of the brothers, was forbidden to train because he was very slight, so he just watched.
Hélio realized after a long time observing that he could adapt the techniques used, creating his own fighting style based on his physical limitations. Hélio emphasized the principles of leverage and the choice of the right moment on the speed, thus creating a national style of Jiu-Jitsu, Gracie Jiu-Jítsu, or Brazilian Jiu-Jitsu.
Today, Jiu-Jitsu is the fastest-growing individual sport in Brazil. It has around 550,000 practitioners, with more or less 2500 gyms spread over the big capitals alone, not counting the number of gyms in small cities.
Where is Jiu-Jitsu most popular?
Brazilian Jiu-Jitsu has been growing a lot every day, and we have the Gracie family to thank for that. BJJ is still very popular in Brazil, where it originated, but many other countries have gotten in on the action in big ways and adopted the BJJ lifestyle. Today, many fans and high-level BJJ athletes are from outside of Brazil, and many celebrities also practice Jiu-Jitsu.
BJJ is very popular in the United States, thanks mainly to the Gracie family, who were the precursor of Jiu-Jitsu in America. Today the biggest competitions in the world take place in the USA, mainly in California, where the Jiu-Jitsu world championship is held, and they also have the largest number of academies.
Another country that has been standing out a lot in the BJJ is the UAE (United Arab Emirates). With the royal family's support, Sheikhs Mohammed bin Zayed al Nahyan and Tahnoon bin Zayed Al Nahyan (who has been a black belt in Jiu-Jitsu for many years), Jiu-Jitsu has become very popular in the country.
The UAE has even reached a point of Jiu-Jitsu becoming law in the country. It is now part of the official school curriculum, the military (the military only increases a soldier's rank if they complete the Jiu-Jitsu program). Currently, the police are starting to introduce a Jiu-Jitsu program as well.
Many football clubs also have their own Jiu-Jitsu teams, and there are also many academies across the country, even large franchises like Gracie Barra and Team Nogueira.
And with all that popularity, Brazilian Jiu-Jitsu has been spreading across all continents.
Is Jiu-Jitsu worth learning?
Jiu-jitsu is a martial art that benefits physical and mental health and develops strength, endurance, and flexibility. Because it is a high-calorie sport, Jiu-Jitsu also helps you lose weight, improves fitness and cardiovascular and respiratory capacity. For more on the benefits of Jiu-Jitsu as a fitness tool, check out our article on it here.
In Jiu-Jitsu, you learn to fight in any situation by using the biggest pillar, self-defense. It is absolutely worthwhile to learn Jiu-Jitsu. In addition to the benefits mentioned above, Jiu-Jitsu will also be very useful in your day to day life, helping you with self-control, confidence, and self-esteem.
For more on the practical applications of Jiu-Jitsu in daily life, check out our article on it here.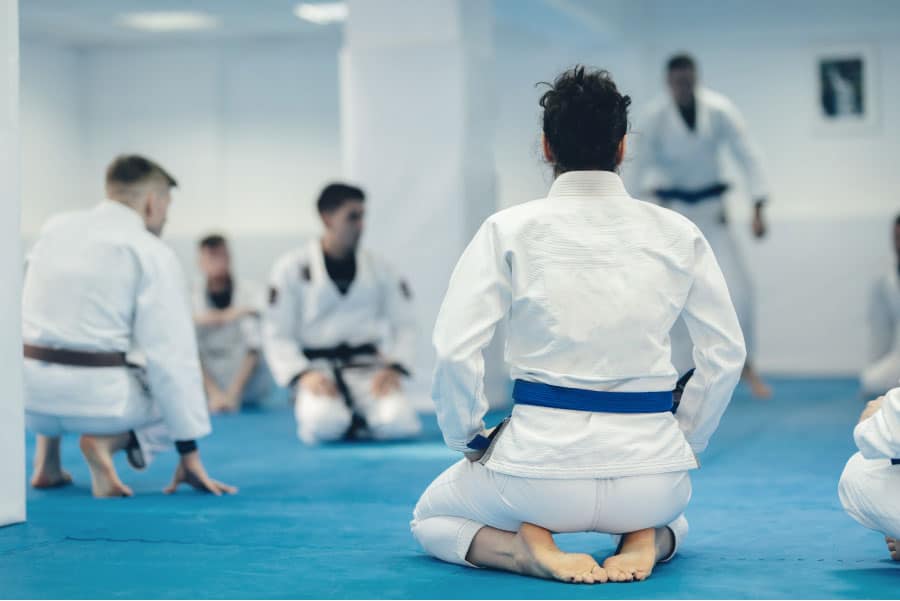 Celebrities Who Practice Jiu-Jitsu
| | | |
| --- | --- | --- |
| NAME | PROFESSION | BELT |
| Anthony Bourdain | Chef | Blue |
| Ashton Kutcher | Actor | Purple |
| Chuck Norris | Actor | 3rd Degree Black |
| Clark Gregg | Actor | Black |
| David Batista | WWE Star | Purple |
| Demi Lovato | Singer | Blue |
| Donnie Yen | Actor | Purple |
| Ed O'Neill | Actor | Black |
| Guy Ritchie | Movie Director | Black |
| Ice-T | Rapper/Actor | Purple |
| Jason Statham | Actor | 3rd Degree Black |
| Jim Carrey | Actor | |
| Joe Rogan | Comedian | Black |
| Johnny Strong | Actor/Musician/Stuntman | Black |
| Keanu Reeves | Actor | |
| Kelly Slater | Surfer | Blue |
| Margot Robbie | Actress | |
| Mario Lopez | Actor | Purple |
| Matt Heafy | Musician, Singer | Purple |
| Maynard James Keenan | Singer | Purple |
| Mel Gibson | Actor/Movie Director | |
| Michael Clarke Duncan | Actor | Purple |
| Michael Dudikoff | Actor | 8th Degree Red & Black |
| Mickey Rourke | Actor | Blue |
| Milla Jovovich | Actress | |
| Naomi Watts | Actress | |
| Nicholas Cage | Actor | Black |
| Paul Walker | Actor | Black |
| Rebel Wilson | Actress | |
| Rikki Rocket | Musician | Black |
| Robert Downey Jr. | Actor | Black |
| Robert Duvall | Actor | |
| Scarlett Johansson | Actress | |
| Scott Caan | Actor | Brown |
| Sean Patric Flanery | Actor | Black |
| Shaquille O'Neal | Basketball Player | |
| Steve Irvin | Zookeeper/Conservationist | |
| Tom Hardy | Actor | White |
| Tommy Lee | Musician | |
| Tori Spelling | Actress | |
| Usher | Singer | |
| Vin Diesel | Actor | Blue |
| Vince Vaughn | Actor | Blue |
| Wesley Snipes | Actor | |
| Wiz Khalifa | Rapper | White |
Conclusion
Brazilian Jiu-Jitsu is a sport that is growing every day and is a sport that prepares for any everyday situation.
The popularity of Jiu-Jitsu has been growing a lot too, and we have the Gracie family to thank for that, who introduced us to this martial art in a real way, in real combat, and many of them without time limits and rules. And Jiu-Jitsu prevailed over the other Arts.
Try to get a lot of information before looking for a Jiu-Jitsu gym, because from the moment you step on the mat, it will be a path of no return.