The late great and never to be forgotten Eddie Van Halen passed away on the 6th of October 2020 at 65. To say he will be missed is an understatement, and he personally molded and sculpted the way I play guitar, from the sound and tone I try to achieve his technique style. There is nothing about Eddie Van Halen that guitarists still don't try to imitate today, especially his tone. In his passing, I decided to dedicate this article to his guitars that served as his instrument to bring love, joy, happiness, comfort, and strength to tens of millions worldwide.
Van Halen played, designed, and built most of his own guitars, which included the Frankentrat, the Frankenstrat 2, the Bumblebee, The Shark, the EVH Music Man, Krammer signature series 5150, the Steinberger GL2T, and a few more guitars designed with mixed parts. However, these were Eddie's main guitars that he used throughout his career.
In this article, I will go over a bit about Eddie's guitar history. Then we will look into all the guitars that the virtuoso played and recorded with throughout his illustrious career.
Eddie Van Halen's guitars overview
If you don't already know, Eddie was famous for designing and creating most of his guitars from an early age. If you think about Eddie, you probably think about his bastardized fender style guitar, red with white and black stripes.
However, over the course of Eddie's carrier, he painted, designed, and built many guitars, finally turning to companies such as Ernie Ball, Kramer, Peavey, and Fender to create build his guitars. At the same time, he sat in on the design of them all.
Eddie Van Halen was known by all and said to have the greatest guitar tone ever. Running his bastardized guitars through his Marshall Plexi amplifiers and later his Peavey 5150's.
Eddie had a wide variety of guitars, and that is what we will have a look at now. Enjoy!
The Frankenstrat
This was not Eddies first guitar (which we will cover later) but rather the guitar that he is known for and delivered him that signature sound that we all came to know and love. Wanted a Fender guitar with a Humbucker because he liked how a Fender played but the sound of the humbuckers from a Gibson.
Back in the 70's they did not make or sell these guitars, so Eddie took it upon himself to build his own. Eddie Picked up a contoured ash style fender body that was cheap and a two-piece maple neck, then proceeded to chisel out the body in the bridge position to make way for a PAF humbucking pickup that came from a ruined 1958 Gibson ES-335.
Eddie even dumped the pickup into paraffin wax to reduce feedback. He never knew what to paint on it, as he said in a few interviews, so what he did was get electrical tape and a can of spray paint. The guitar ended up being white with black stripes.
That is how the most iconic guitar in rock history named the Farankenstrat was made. Not from one that was bought off a shelf in a store but from a young kid wanting to create a vision he saw in his head.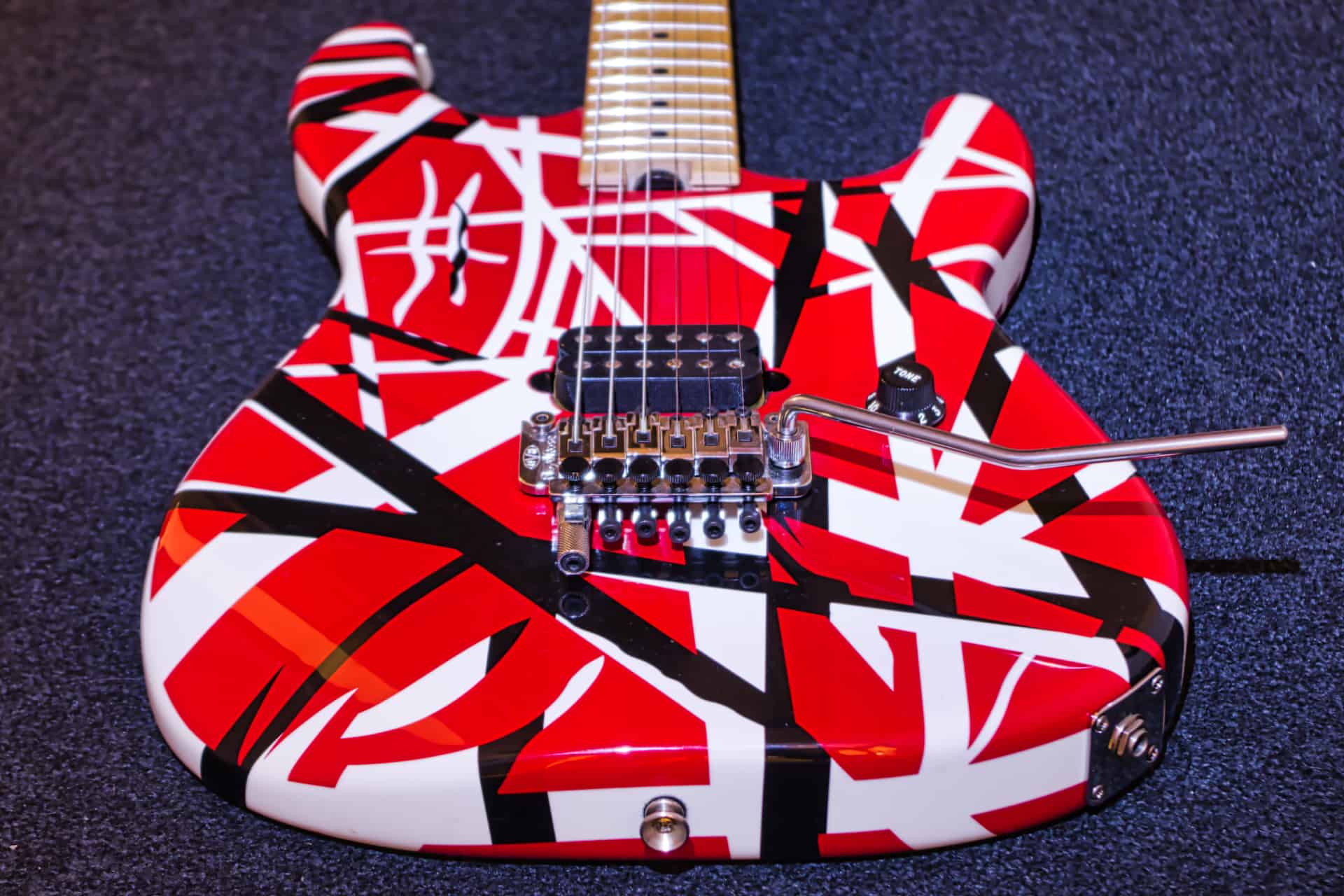 The Red Frankenstrat
However, Eddie was not done with his frankenstrat, and he made some major upgrades to it in the early '80s integrating a Floyd Rose tremolo and a locking nut. This was to help it stay in tune better.
Eddie has said in interviews that he regrets bastardizing the Frankenstrat even more into the red version because He said that the Frankenstrat was so cool in its original entirety.
Either way, from a fan's perspective, this guitar and its sound is responsible for the greatest guitar tones you will hear coming from some of the best rock and roll songs of all time.
1968 Gibson Les Paul / Teisco
Eddie has said that his first guitar was a Teisco with four pickups in it, while he also stated that his first guitar was a 1968 Gibson Les Paul. So it's a toss-up.
The Teisco is designed with four pickups, and Eddie said that he thought the more pickups a guitar had, the better it was. However, this is obviously not that case, and as Eddie grew as a guitarist and musician, he began working on his signature guitar, the Frankenstrat.
The Shark
Most people don't know this, but the Shark was Eddie's go-to guitar for most of his early recordings. He said he would use it for all recordings that never had vibrato-bar parts in it. The shark was a 70's Ibanez Destroyer 2459 and was also styled and modified by Eddie himself with his trademark look. Eddie played this guitar on major hits like "you really got me," "running with the devil," and when he carved out too much of the body and the sound was jeopardized, he retired it by putting it on the 1980's cover of "women and children first."
The Bumblebee
This guitar is infamous and famous at the same time. It is actually buried with Pantera's Dimebag Darell. It was also featured on the cover of Van Halen II.
This was another one of Eddies bastardized guitars that he fiddled with to no end. It was a Charvel guitar with a Strat-style body. Eddie customized a DiMarzio humbucker pickup by replacing the magnet with a Gibson PAF and shoved this abomination into it. Not without chiseling out a few pieces of wood first, of course.
Eddie went further even to sand down the neck because he preferred guitar necks to feel a certain way. It also had Eddie's signature look; however, it was called the bumblebee because it was black with yellow stripes (or was it yellow with black stripes).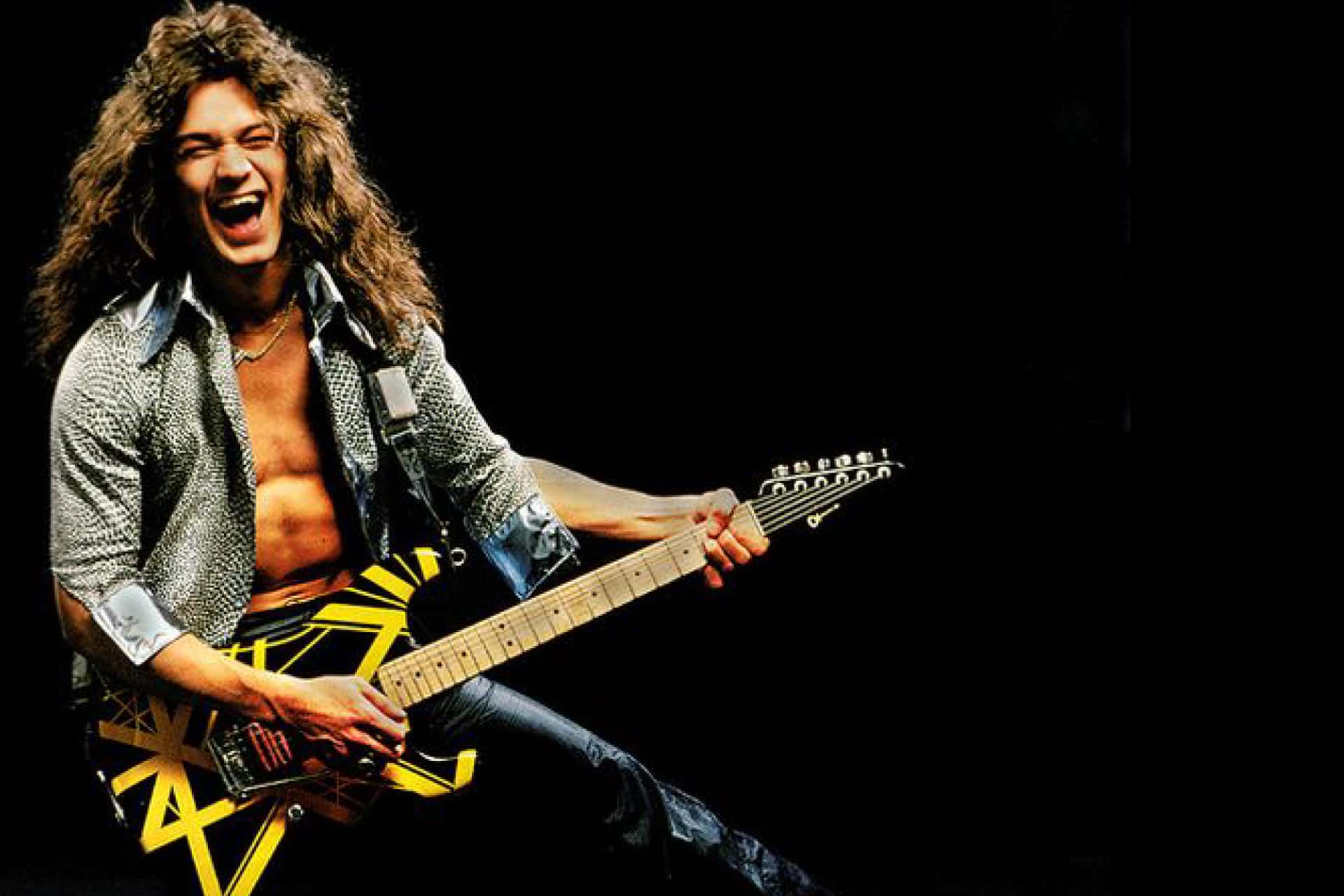 Charvel Star / Danelectro
Van Halen sported a new guitar for the 1980's Invasion tour. It had a Charvel Explorer body with a Danelectro neck. Furthermore, as Eddie was accustomed to doing, he shoved a Gibson PAF pickup in it. Van Halen's guitars in the '80s were difficult to keep track of because he loved to break them all down and rebuild them, implementing and mixing different guitars and their parts.
Eddie said that he hated guitars bought off the shelf because they did not play and sound the way he wanted them to.
Kramer 5150
Kramer was the first company to endorsed Eddie to help him realize his first commercially created guitar, and it all started in 1982. Eddie helped design this guitar. Although this guitar was not created specifically for selling purposes, this guitar allowed Eddie to use something other than his Frankenstrat for purposes such as promoting and selling.
Kramer was noted to have a meeting with Eddie back in the early '80s where he sat with Eddie while he played on his Frankenstrat. Krammer noted it looked like something you would throw in the garbage and, as such convinced Eddie to let Krammer build his first commercial guitar.
The Mini Les Paul
Funny enough, Eddie actually did play a little guitar on the track from their Diver Down album called "Little Guitars." David Petschualt created a mini Les Paul and brought it to Van Halen while on tour. Van Halen later procured another guitar from David, stating that the original was better.
Steinberger GL2T
Steinberger guitars were the original designers of the guitar that featured no headstock. In this design, the tuning pegs are moved and located on the tailpiece. Eddie was mesmerized by this guitar, and the model that Ned Steinberger designed and made for him featured a TransTrem vibrato system. You can hear this guitar on Van Halens studio album 5150.
EVH Music Man
In the '90s, when Van Halen left Kramer, he partnered up with Ernie Ball, creating the EVH Music Man. This partnership lasted up until the mid-'90s, and we don't really know the reason why Van Halen split with Ernie Ball. Even so, This guitar was featured on tour and sessions with Eddie during 'For Unlawful Carnal Knowledge' and 'Balance.'
One thing to note is that even though this guitar did not even feature Eddie's signature style with stripes, this guitar still has its fans.
EVH Wolfgang
The EVH Wolfgang was the epiphany of Eddie's creative mind, and some say this is the guitar he was waiting to design. This guitar was made by Peavey and came out in the late '90s after Eddies split with Ernie Ball. This guitar was named after Eddie's son. This partnership with Peavey lasted up until 2006 when Eddie left and moved to partner up with Fender.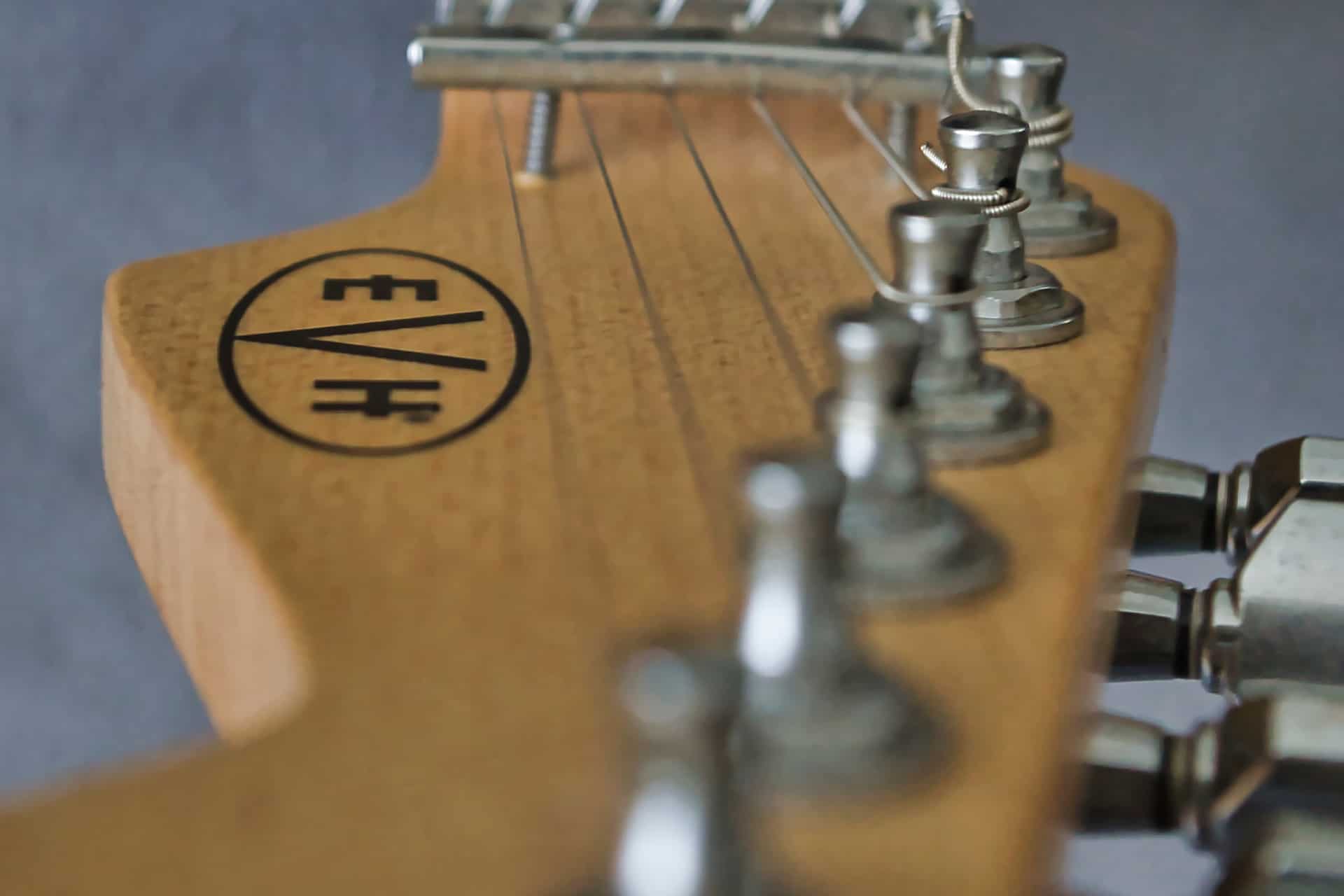 Frankenstrat 2
In 2006 when Eddie partnered up with Fender, they designed and created a Frankenstrat replica. As Eddie said, they did a pretty good job when he did a blindfold test trying to figure out which was the replica and which was the original. It took him a good while to figure out which one was which. Eddie retired his original Frankentrat and used this replica as his go-to guitar after that. He was even noted as saying that it played a little easier than his Frankenstrat.
Conclusion
Eddie Van Halen will always be remembered as a guitar virtuoso that brought passion, drive, and commitment to his playing and music. In the pursuit of becoming the greatest guitar player that ever lived, he designed, created, broke, built, crafted, re-invented, and striped many guitars to create his signature tone that nobody can and will ever mimic.
He probably played hundreds if not thousands of guitars here and there, but these 12 were the cornerstone guitars that designed, made, and played throughout his career.