Have you ever wondered what is in a long island iced tea? or why so many women tend to drink it instead of men? Do you choose not to drink it because you think it's not manly enough, it's not strong enough, not tough enough, and due to the assumption, the alcohol volume is low. Is long island iced tea a girly drink?
A Long Island iced tea is not a girly drink. It has an alcohol volume of 22 percent and is made with five white spirits, including Gin, Vodka, Tequila, White Rum, and Triple sec liqueur. By no means are these spirits and this cocktail a girly drink.
This article will cover the history of the LIIT (long island iced tea) and all the various facts and interesting things about it, including the ingredients, what it tastes like, its alcohol volume, how to mix and make it, and variations of the cocktail.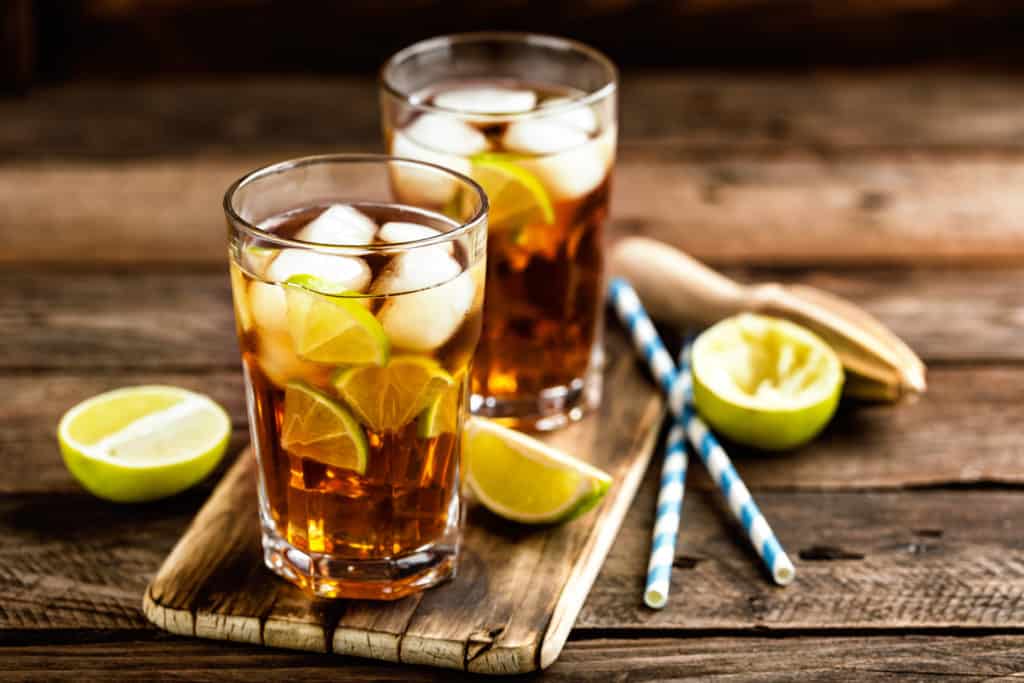 Long island iced tea overview
A Long island ice tea (LIIT) is a type of mixed drink made with alcohol. The ingredients include Gin, Tequila, Vodka, Rum, and Triple sec. The non-alcoholic ingredients include lemon juice, simple syrup topped with cola. There are variations to the drink, which we will discuss in a later heading.
It is associated with iced tea because when the drink is topped with cola and slightly mixes with the alcohol, its color turns to an amber hue. Hence the name iced tea.
What is the alcohol volume of Long island iced tea?
This mixed cocktail has a much higher alcohol volume than other drinks, which are considered "highball" drinks, because the volume of mixer used is relatively small, making the volume of alcohol 22 percent.
What does a Long island iced tea taste like?
A properly made long island iced tea will mainly taste like cola with orange (triple sec) and lemon juice added.
History of the Long island ice tea
The first person to supposedly come up with the long island iced tea was a man named Rosebud Butt. In 1972. Butt was a bartender at the Oak Beach Inn located in Hampton Bay on Long Island, situated in New York.
However, in the 1920s' prohibition era (prohibition was the nationwide ban of the transportation, production, and importation of alcohol), a fellow named "Old Man Bishop" came from a local community named Long Island situated in Kingsport, Tennessee. This was the original creator of the long island iced tea.
Moreover, Old Man Bishops son Ransom Bishop was said to have perfected the cocktail. At this time, the drink included whiskey and maple syrup and different amounts of five liquors (very similar to what we have today), except the Triple Sec and cola, which was omitted, of course.
How to mix a long island iced tea?
If you do not like some of the white liquors that make up a long island iced tea, feel free to substitute it with others of your choosing.
Furthermore, the IBA (International Bartenders Association) specifies that the cocktail is mixed with 1.5cl of liquor and liqueur, which equates to about 1/2 a fluid ounce. However, you can adjust accordingly, and some individuals prefer to use more or less depending on their preference and how late at night it is.
Ingredients
3/4 ounce Vodka
3/4 ounce white rum
3/4 ounce white tequila
3/4 ounce gin
1/2 ounce Triple sec
1-ounce freshly squeezed lemon juice
1-ounce simple syrup
Top up with cola
Preparation instructions
Firstly you need to fill your shaker or mixing glass with ice.
Then add your white liquors and liqueur, including vodka, white rum, white tequila, gin, and Triple sec.
Shake or stir the contents thoroughly until everything is well blended together.
Add the simple syrup and mix or stir some more.
Pour the contents from the shaker or glass into a highball glass with ice.
Top off with cola.
Garnish with lemon wedges if you have any.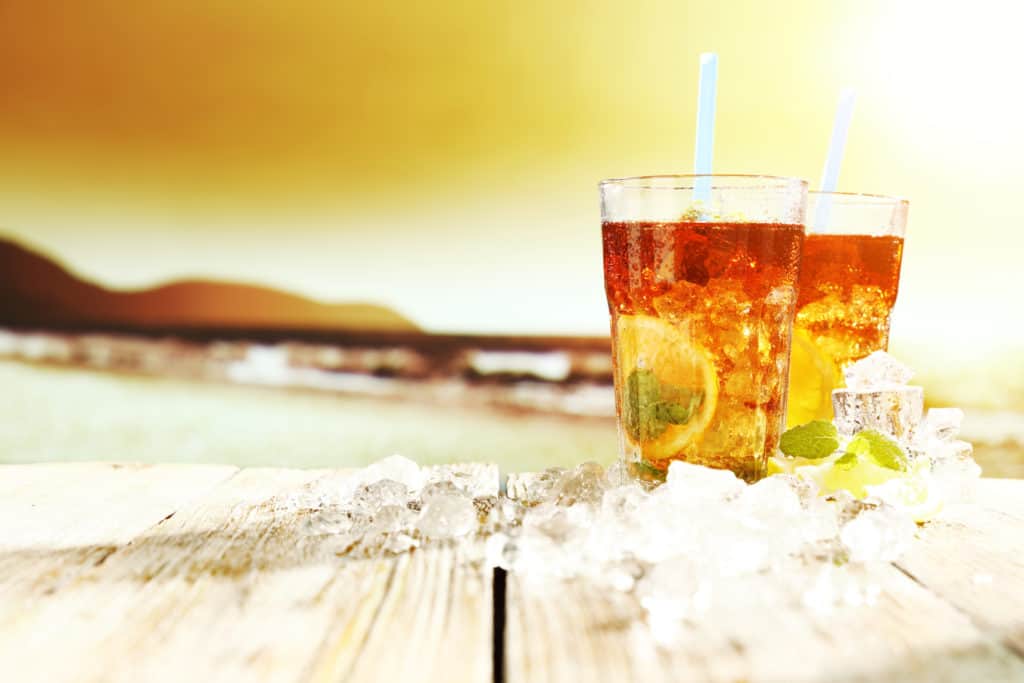 Long island iced tea variations
You get many variations of the long island iced tea, and we will list a few of them here for you to try if you like. Remember that mixing cocktails should be fun and an enjoyable experience, the effect from the alcohol should not be your primary driving factor.
Grateful Dead / Purple Rain / Black Superman
All these names constitute the same variation for a long island iced tea where the Triple sec is replaced with Chambord.
Chambord liqueur has a 16.5 percent alcohol volume and is a raspberry-flavored liqueur modeled after a liqueur made in France's Loire Valley.
The cola of this version for this version of the long island iced tea is also replaced with lemon-lime soda.
These two ingredients give the cocktail a dark hue, and thus that is how the names were established.
Adios Mother…..
You can probably guess what the title is trying to say, but we will refrain from completing it here.
This version of the LIIT (long island iced tea) has the Triple sec substituted for Blue Curacao.
Blue Curacao is a liqueur flavored with the dried peel of the bitter orange Laraha, a citrus fruit.
The cola, just like in the previous variation, is substituted with lemon-lime soda. This variation of the LIIT has a beautiful blue color to it.
Long beached iced tea
If all the ingredients are kept the same, however, cranberry juice is substituted in place of the cola, you get this variation of the LIIT. This LIIT has a reddish hue to it compared to the others.
Tokyo iced tea
If Midori is substituted for the cola, then the result is this variation of the LIIT. Midori is a bright green colored, sweet liqueur made by Suntory. Hence the color of this variation is green in color.
Where to buy the ingredients?
Below we have listed the best possible spirits that make up a long island iced tea.
Check out this Tequila on Amazon here
Check out this Vodka on Amazon here
Check out this White rum on Amazon here
Check out this Gin on Amazon here
Check out this Triple sec on Amazon here
The rest of the ingredients such as cola, simple syrup, lemon wedges, and lemon juice can be obtained at your local grocery market.
Is a long island iced tea a man's drink or a girly drink?
Now, as you can see, five white spirits make up this cocktail with an alcohol volume of 22 percent. The white spirits are not your average, mediocre low volume spirits either. They are all considered hardtack (very strong alcohol).
Furthermore, if you start increasing each of these white sprits' volume when mixing the drink, things can turn pretty bad pretty quickly.
So, although it may not taste like you are drinking something strong, this cocktail has a hefty kick and can sneak up on you.
Most people don't realize this (both men and women), and they both get a shock when drinking it if they have never had it before.
Conclusion
We covered quite a lot in this article about the long island iced tea cocktail. We ran through its history, how it is made, what it tastes like. We ran through all the white spirits and other ingredients that are used to create it. We went through a few variations, and we even gave you what we think are the best spirits to use when mixing this drink.
As we can see, a long island iced tea is by no means a girly drink. Made from five white spirits, including four liquors and one liqueur, this potent cocktail has a high alcohol volume of 22 percent and not for the faint of heart.
Even though it may taste just like cola and orange, don't be fooled; this drink will lay even the most confident drinker on the floor after a couple of glasses (including men).
Perhaps women tend to steer towards tasty drinks because they don't like the petrol burn some hardtack liquors offer, and hence a LIIT is preferred, so you will see them more so with female patrons. However, by no means is a long island iced tea a girly drink.