As parents, we are always scared of introducing our kids to new activities that we are not so sure of, whether they are safe or not. Martial arts, and Jiu-Jitsu, in particular, seems like it might be dangerous as it is a contact sport, and naturally, we might be wondering whether it is a safe activity for our kids to learn.
Yes, Jiu-Jitsu is very safe for kids and comes highly recommended to aid in children's physical and emotional development. The many benefits of Jiu-Jitsu include discipline, improvement in concentration, fitness, self-esteem, and many more.
That being said, you might still be wondering about it and need more convincing. Don't worry, as did I. So let's go deeper into the details and hopefully get you to enroll your child/children in their first Jiu-Jitsu class today!
Is Jiu-Jitsu safe for kids?
As I just mentioned, Jiu-Jitsu is very safe and is recommended for children of all ages. The main objective of Jiu-Jitsu classes for children is to teach discipline and with that comes improvement in concentration, health and fitness, and self-esteem.
A good teacher will focus on forming citizens for life, not champions in Jiu-Jitsu. Championships are just byproducts of children's training, and it shouldn't ever be the main focus. Trophies and medals come and go, but character formation lasts for the rest of your life.
Kid's classes are fun, and most of the time the teacher promotes some activity related to the realities of everyday life, always with great responsibility and safety of course.
This is different from adult classes, where physical demands are more and the possibility of injuries is much higher.
What age should kids start BJJ?
The recommended age for a child to start practicing Jiu-Jitsu is from 3 years old, according to general advice from most pediatricians. According to The International Brazilian Jiu-Jitsu Federation (IBJJF), the minimum age to start Jiu-Jitsu is from 4 years old.
3 – 5 years of age
In this age group from 3 to 5-year-olds, classes should be practiced in a playful way, like games, but always showing respect and hierarchy from an early age.
5+ years of age
From the age of 5, classes begin to include more specific movements in Jiu-Jitsu. An important aspect in this phase is to prepare the child mentally to win and lose, as they start dealing with victories and defeats at an early age.
7+ years of age
From 7 years of age, children can be introduced to competitions. It is the responsibility of the teacher to always respect the child's will when it comes to competing in competitions, but to always encourage it, as it is an important part of the development in Jiu-Jitsu.
Parents role
The role of parents is also very important at this stage. The child's behavior should be observed, whether he feels comfortable in a class and likes to go train and compete.
How do you play Jiu-Jitsu with kids?
Children's training should be mostly playful, always opting for specific games that stimulate motor coordination, balance and even executing specific movements that happen during a fight.
With games and play, a child will develop skills for both jiu-jitsu and life, and learn it in a pleasant and natural way.
As a jiu-jitsu teacher, with 23 years of experience, I like to use some fighting games in my classes, which consist of specific situations that happen during a sparring fight or training.
In these types of games I use some tools to help the child's learning, such as:
soccer balls
tennis balls
hula hoops
cones
rubber bands
And nowadays there are excellent tools, such as dummies, which are specifically made for fights and practicing Jiu-Jitsu. These dummies and can be found in any size, and in most kid's sizes as well.
With all these tools in hand, as a Jiu-Jitsu teacher, you must have enough knowledge, creativity, and responsibility to teach a children's class.
Include playful activities in your children's training, and you will notice the development of skills, the improvement in expressing imagination and creativity, along with respect and hierarchy on the mat.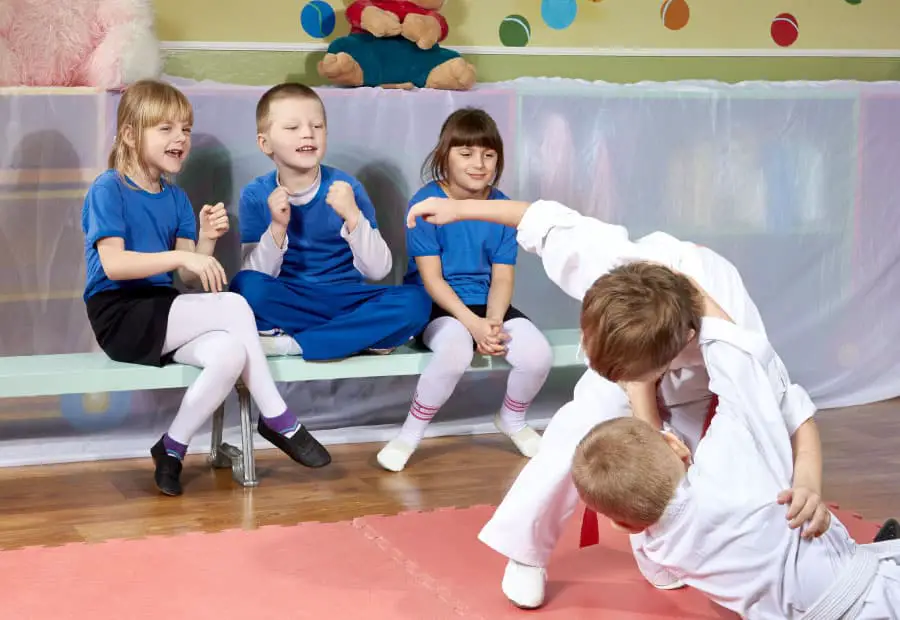 Why do kids need Jiu-Jitsu?
Jiu-jitsu should be part of all children's daily lives, as an extra activity, or as part of their education.
Children need to learn values ​​from an early age, and in Jiu-Jitsu, they will learn to have fun, confidence, discipline, and respect, which are all positive values ​​to be taken into adulthood. Children also learn how to defend themselves from possible bullying, through the self-defense training that Jiu-Jitsu provides.
"Direct your children onto the right path, and when they are older, they will not leave it." – Proverbs 22:6
Jiu-Jitsu contributes to the child's human development, through respect for others. Children who practice Jiu-Jitsu have a better quality of life and well-being.
Children who practice Jiu-Jitsu also learn how to socialize better. Jiu-Jitsu focusses a lot on integration and many friendships are formed on the mat, which very often become life-long friendships.
Does Jiu-Jitsu teach discipline?
Discipline is an important value in Jiu-Jitsu. A child will learn to ask permission to enter and leave the Dojo (the place where martial arts are trained), to always arrive on time, to respect the Sensei (teacher), and at least is more graduated.
However, Jiu-jitsu teaches much more than discipline, it teaches respect, hierarchy, cooperation, integration, trust, among many positive values.
Within martial arts, there is respect for others and for the teacher, and the child must learn early on about hierarchy, which will certainly make a child see the world in a different way.
Discipline within Jiu-Jitsu is not like in the army, especially when it comes to children, but there are punishments for those who do not comply with the rules on the mat. As my former teacher would say: "10 push-ups won't kill anyone."
This is the main punishment in Jiu-Jitsu, and the "paid 10" discipline are small punishments that are part of a child's training in Jiu-Jitsu.
Tips for safely teaching your kids Jiu-Jitsu
An important tip is to constantly be learning and improving, either technically or through some courses. Always try to update yourself to improve your performance as a teacher.
Keep the Dojo free of obstacles. The Dojo must be visually clean, with plenty of space for activities.
Another important tip is hygiene. always keep the Dojo clean and sanitized to avoid the proliferation of bacteria, which multiply everywhere. This is especially true in areas with a lot of contact, sweat, and large numbers of people. The concern with hygiene is even greater nowadays, because of the world-wide pandemic that we are experiencing as a result of the Coronavirus and Covid-19.
It is the role of the teacher and parents to keep a child's kimono clean at all times. This is also part of the discipline in the teaching of jiu-jitsu.
Always have a first aid kit and emergency telephone numbers (such as firefighters) on hand, should any unfortunate emergency situation occur. It is also important to fill out a form of terms of responsibility, certifying that your child is healthy, and providing the necessary information in case of an emergency.
Look for certified teachers and academies, recognized by major sports entities, such as national and international federations (CBJJ / IBJJF), before enrolling your child in a Jiu-Jitsu academy. With this information, it is even safer for your children to learn jiu-jitsu.
Conclusion
Jiu-jitsu is safe for all children. It is safe and recommended for children of all ages, hyperactive children, "special" children (autism, down syndrome, or with some physical disability), and only brings physical and mental benefits.
Jiu-jitsu will provide health and well-being; it will also teach discipline, hierarchy, cooperation, integration, and respect, among other positive values.
Jiu-Jitsu will teach children how to deal with victories and defeats from an early age, thereby increasing confidence and self-esteem.
Jiu-Jitsu is not only a martial art; it improves the friendship between parents and children, resulting in more harmony in the family. It helps in character formation and makes a child grow up with formed moral principles.
It is important always to encourage a child never to give up, that losing is a part of learning, and that we are constantly evolving and improving.