Most men are out of their depth when it comes to formal wear for special occasions, which is probably why we see so many weird combinations on men today. Accessories such as cufflinks, studs, and watch should be chosen as carefully as your tuxedo, with the same thought going into the combinations that not only complement each other but the suit as well. Is it important that all your accessories match your attire for a formal occasion?
Cufflinks, studs, and your watch should match for a formal occasion, so you may stir up some behind the hand chatter if you don't match these items. You may be luck out and find that you can get away without matching these items if you at least make sure that your cufflinks, studs, and wristwatch complement each other and don't clash, which will help to redeem your social standing.
In days gone by when formal occasions were more commonplace than they are today, men had sets of cufflinks, studs, and tie pins that matched as a set. They also generally had a range of dress watches appropriate to wear with the tuxedos or dress suits they owned.
So what is the modern man to do when he needs to purchase accessories for a special occasion, and he does not have any of his own? We will come to your rescue here at Craft of Manhood and give you some guidance for your choices so that you can avoid a social, high-society disaster!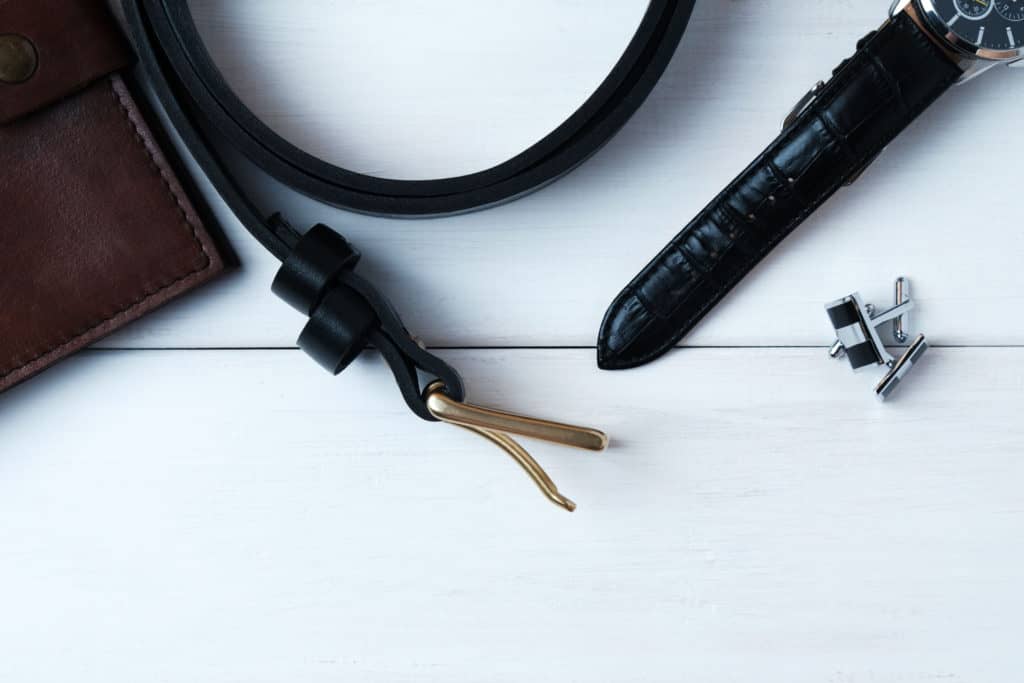 Should You Match Your Cufflinks, Studs, And Watch
Most men know what cufflinks are and may even have a pair knocking around in a drawer somewhere that was handed down from their father or grandfather, but some cavemen who will be donning a tuxedo for the first time may not know what studs are.
In high-society, a stud is not what your girlfriend calls you, but rather a decorative fastener for your formal shirt! Studs are basically used on some tuxedo shirts as a more decorative alternative to buttons. The shirt needs to be of a specific type to wear studs.
Back in the day, collars and cuffs were add-on items onto a dress shirt and were fastened in place with cufflinks and studs. Some formal shirts required wearing a bosom piece, which was a piece of stiffer material worn over the front of the shirt like a bib. This was also fastened in place with studs.
Bosom pieces are less common today, and tuxedo shirts are designed to accept the stud themselves for decorative purposes. They have a strip of material down the front of the shirt that hides the common looking buttons but has slots for attaching your stylish studs.
In the early days, cufflinks and studs often came as a set since they were often worn together because of the style of the day. Today, cufflinks and studs can be purchased as a set or separately.
Thus, if you already have a pair of cufflinks, you may not have a pair of matching studs, but this is no reason to panic.
Should Your Cufflinks Match Your Studs?
It is more traditional to wear cufflinks and studs that match or are part of the same set, but this is not a hard and fast rule.
If you already have a set of cufflinks that you want to wear, it is not necessary to have studs that match. Your studs do, however, need to compliment the cufflinks.
For example, don't wear silver studs if you are wearing gold cufflinks; rather, wear black crystal studs to go with gold cufflinks.
If you do not own a set of cufflinks, then the best option is to buy a complete set that comes with matching studs. This way, you are sure to impress at the social event rather than reveal your caveman heritage!
Studs and cufflinks can come in a variety of materials, shapes, and designs. Since they are generally intended for formal evening wear, the colors are not usually bright and gaudy but rather shiny, or dark, sultry, and mysterious.
You can get sets of matching cufflinks and studs that are themed, for example, with the Batman symbol, and while these are cool, you should only wear themed jewelry for appropriate occasions. If the event is more formal than a movie premiere, rather go with a classier set.
Classy sets of cufflinks and studs can be a mixture of precious metal with a precious stone, such as silver and onyx. Precious stones on their own are also popular, with Mother of Pearl Topaz and Onyx being the top choices.
Precious metals alone, such as gold, silver, or platinum in an elegant design, will bring a shiny bit of classy pizazz to a dark suit.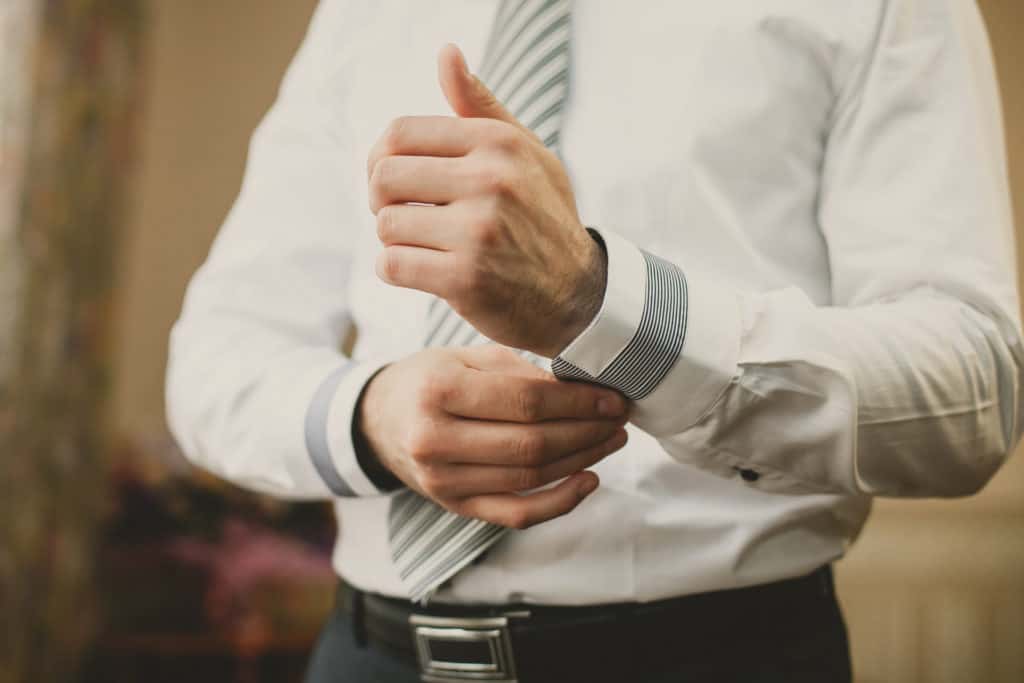 Should Your Watch Match Your Cufflinks And Studs?
The wristwatch is a fairly recent addition to the jewelry portfolio of the gentleman about town! The pocket watch was the timepiece of choice in the years gone by, but this was simply because there was no other option.
Even after the wristwatch first came, it was considered as a lady's timepiece till the early 20th Century when it became fashionable for men.
A wristwatch that matches your cufflinks and studs will display a higher level of class and attract more admiring looks than a watch that doesn't match your ensemble. An example of this mismatch is wearing a silver watch with gold cufflinks. The silver would detract from the gold cufflinks and look out of place.
If you wear gold cufflinks, wear a gold watch to match. If the strap is leather instead of metal, then the strap should be a color that works better with the color of your suit rather than something that matches the cufflinks and studs.
Since the most elegant formal suits or tuxedos are usually black, this would mean a black strap would be a better choice than a brown or tan watch strap.
The style of watch is also a very important choice for a formal occasion. A chunky, robust sports watch would not be the ideal choice of watch for a formal occasion to go with a tuxedo. You want something that is slim and elegant, a watch that says Pierce Brosnan rather than Charles Bronson. The elegance of such a watch will complement the elegance of the suit and the occasion.
Generally, a watch with a dark face such as a dark blue or a black face with elegant numerals on the face is a suitably formal choice to go with a tuxedo.
If you only have one formal suit, then it would be wise for you to buy a watch that matches the suit and then get a set of studs and cufflinks that match both the suit and the watch.
You can indulge in multiple sets of cufflinks and studs; just make sure that they always complement the watch, unless you will be getting multiple watches for your collection as well.
Conclusion
It is more traditionally acceptable for your cufflinks, studs, and watch to match, but if you have a good eye for style, you may be able to get away with items that don't match but still complement the style and design of the others. If you would rather stay on the safe side than risk making a social faux par, then rather lookout for a matching set of cufflinks, studs, and watch. Using this strategy, you will always be well turned out and socially appropriate for the occasion at hand.