When it comes to sport in general, people always wonder about age and what the best age is to start learning a sport or whether you are "too old" to learn a sport. This might be the case for some sports, but what about Jiu-Jitsu? Can you start Jiu-Jitsu at any age?
Jiu-Jitsu can be learned and practiced by people of all ages, as long as you are physically capable. Jiu-Jitsu can be learned from as young as 3 years old, which is the recommended starting age for young children, up to any age.
If you are one of the people who are doubting whether you are too old to learn Jiu-Jitsu or maybe you have a child and wondering if they are too young to learn, read on as I will cover all of these now to help clarify any doubts you might have in order for you to get started.
What age can you start Jiu-Jitsu?
The answer to this question is simple: you only have to be alive to start training jiu-jitsu.
It is quite common for people to comment on when to start practicing jiu-jitsu, but often they are more advanced in age or are not the strong or athletic type. What I usually say, in my experience as a black belt, is that jiu-jitsu is made for all different types of bodies and people, in most cases, of all ages.
Whether you are coming from a sports background and are the strong and athletic type, or have a dad bod and never or rarely practice any physical activity, you can learn Jiu-Jitsu. You can start jiu-jitsu at any age because there is no "right" age to start.
Here are some basic recommendations for how and when kids can start Jiu-Jitsu:
For young children, the recommended age to start practicing jiu-jitsu is 3 years old, according to the standards of Pediatric Councils. Training for young children should be well-directed and playful, with only specific games for adaptation.
From age 5 onwards, specific jiu-jitsu training can be included as children around this age already show improvement in motor coordination.
From age 7, children can be introduced into competitions.
For adults, there is no minimum or maximum age to start training jiu-jitsu.
For more on Jiu-Jitsu for kids, check out our other article on whether Jiu-Jitsu is safe for kids here.
Is 30 too old to start Jiu-Jitsu?
As people often say: 30 is the new 20.
30 is a great age to start practicing jiu-jitsu. According to physical education professionals, muscle mass starts to decline from the age of 30 and accelerates when you hit 50.
For people age 30 and up, jiu-jitsu is highly recommended, as it helps to strengthen your body, whether through strength exercises, stretching and flexibility, resistance training, and core strengthening among others. Jiu-jitsu is a complete sport in that sense and great for physical activity at this age.
Can you start Jiu Jitsu at 50?
As I just mentioned, the loss of muscle mass accelerates at the age of 50. Jiu-Jitsu can and should be included in this age group's activities.
So yes, you can absolutely start practicing jiu-jitsu at age 50 and you should. A great example of this is the world renowned chef, Anthony Bourdain, who started training jiu-jitsu at 57 years of age.
Anthony Bourdain was introduced to jiu-jitsu in 2014, and from there he plunged headstrong into the BJJ lifestyle. He lost 16 kg and managed to change all his bad habits; changed his unhealthy diet, reducing his alcohol consumption considerably, and changed his whole routine.
In 2015 Anthony Bourdain got a blue belt, and even participated in some competitions, with positive results.
Is Jiu-Jitsu difficult to learn?
Jiu-jitsu is a martial art that uses leverage techniques, takedowns, joint torsion, chokes, and a variety of combinations of them all. However, it requires some time for a beginner to understand the complexity of all these techniques and positions, how they are applied, and how they all work together.
So yes, Jiu-jitsu is difficult to learn, but it is not impossible. Like learning anything new, it takes time and a lot of dedication to become good at it. There are many hours of training in which you must learn the skills required. These include all the fundamentals to the more advanced skills and techniques, along with the connection and combination of all these techniques.
An example I always like to mention is that of building a house. Building a house needs a strong foundation to support the entire structure. Jiu-Jitsu is the same thing, without the basic foundations, there is no good basis to advance.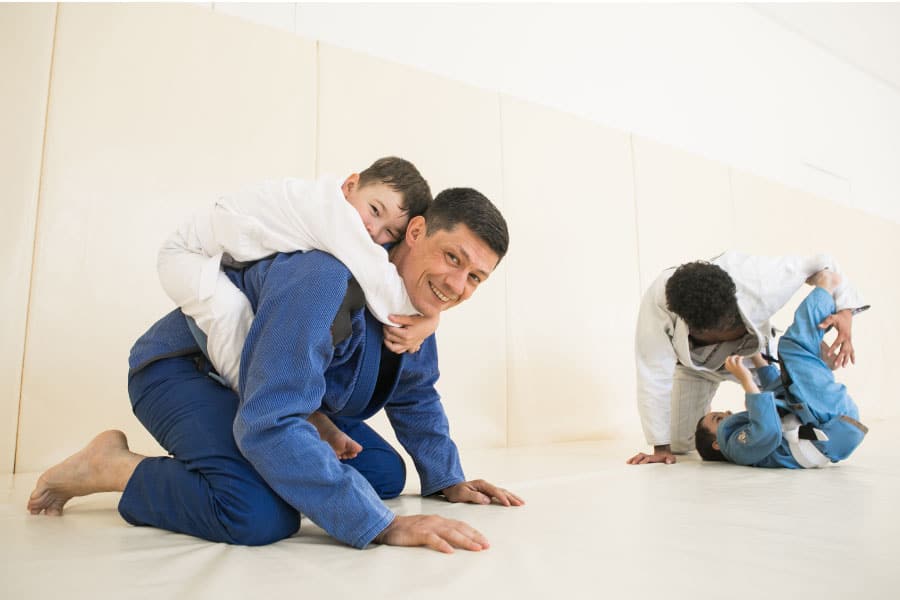 How long does it take to become good at Jiu Jitsu?
Becoming "good" is a relative concept. The most important thing is that you learn and understand jiu-jitsu first. For you to be "good" in jiu-jitsu, a lot of dedication to training is needed, good assimilation of techniques, and in most cases, a predisposition for sports, in general, can be of great advantage.
Many people compare being good at jiu-jitsu or any sport through competitions, and this is a common mistake. A student who dedicates himself full-time to training will become a good fighter. On the other hand, for example, a person who already has a certain ability and predisposition for sports definitely have the advantage to learn the techniques and advance faster.
Most of the time, an athlete may excel in training but do not excel in competitions, and on the other hand, an athlete who does not excel in training may have a lot of success in competitions. The conclusion in all this is that they are both "good" at what they do, and they are both good at jiu-jitsu, just in different ways.
What should I expect in my first Jiu-Jitsu class?
As the expression goes: "First impressions last."
The expectations for any beginner's first jiu-jitsu class are usually high. A beginner will have several doubts in mind before arriving at their first class: "Will I have to face all the fighters in the academy? Will I get injured? Will I learn different techniques in my first class?
These are some of the questions a beginner might have before taking their first Jiu-Jitsu class. I've even had students who imagined that they would be thrown into a "Shark Tank" to fend for himself against all the other, more experienced fighters. All of these doubts and fears may already cause a certain mental block in a student before they take their first class.
It's the teacher's task, or mission, to introduce the student to Jiu-Jitsu through a special class, devised only for beginners.
As a beginner student, you should not expect to learn a lot of techniques in your first class. Since jiu-jitsu is very complex to assimilate right from the start, as a beginner student you'll start off by learning all the basic fundamentals of Jiu-Jitsu and simple self-defense techniques. In each class after that, you'll learn more complex and combinations of techniques.
Benefits of Jiu Jitsu
In my 23 years of experience so far, I can only report the benefits that jiu-jitsu has provided me, and continues to provide not only to me but also my friends and family throughout this time.
The first benefit that I had at the beginning was the rapid weight loss. The endless warm-ups, combined with aerobic and anaerobic exercises, were extremely important for my physical improvement.
The improvement in breathing was also clear, combined with cardiovascular capacity.
During a Jiu-Jitsu session, you work the whole body, a lot of effort is required from different muscle groups, in addition to improving flexibility and motor coordination.
Another important aspect to stand out is the improvement in self-esteem. There are several factors that influence the improvement of self-esteem in this practice: in approximately 12 weeks the physical change is already noticeable, the confidence is also quite developed, only the various training sessions can survive, be it in the hard warm-ups, training sessions sparring, the student already demonstrates a very positive, physical and psychological change.
Conclusion
So in conclusion, Jiu-Jitsu can be practiced by anyone, anywhere, with any body type and of any age, as long as you are alive and willing to learn and put in the work.
Time and dedication to this sport are absolutely fundamental in the physical and psychological improvement of a beginner. And yes, you can become "good" in Jiu-Jitsu; either in competitions, in training sessions at the gym, or in your personal life as well, as long as you're willing to put in the work.
As I mentioned earlier, Jiu-Jitsu increases confidence, self-esteem, and benefits the body and mind in many ways.