Furs, linen, cotton, leather, rubber, which clothing material ensures the best survival? Whether planning for a camping trip or looking to prepare for the day when you can use the information to survive, I'm sure this question has cropped up. I decided to check up on this question, and this is what I found out!
The best survival clothing is judged based on function/utility rather than make or brand. It must be durable, withstand adverse weather, be easy to wash and maintain, less visible among the elements, and be colored not to attract unwanted attention.
So now that you know a little bit of the criteria for deciding the best survival clothing, which clothing fulfills these requirements? Is one type or make of clothing better for survival than others?
Which clothing is most suitable to meet the demands of the different? Let's take a look at some of the answers to these questions.
Which Clothing Meets All The Criterion For Best Survival Clothing?
This one is a toss-up, and the title can go to almost any piece of clothing as determined by several factors. These factors include duration of stay on the field, the number of layers needed for survival, exposure to different elemental weather conditions of cold, heat, wetness, etc.
All this and more will factor into your decision-making process when choosing which items are most suitable for your time in the field.
The main clothing materials are fabrics. Fabrics are usually divided into two types: natural fibers and synthetic fibers. Again, no one subtype of fabric can be said to be better than the other with any assertiveness. There are, however, a few things to look out for, which include:
Natural fibers have a set of distinct benefits, including relative ease in repairing them while out on the field—a great advantage for those time-sensitive survivalists out there.
Low cost-natural fibers generally cost less than their synthetic counterparts, a great advantage for money-conscious survivalists.
 Breathability- On those hot days on the field, you'll need a nice, good porous piece of clothing that'll enable you to wick out all that sweat. This is also a critical quality regarding warding off the threat of heatstroke and making sure you keep your body temperature optimal.
Synthetic fibers like nylon and polyester tend to have a better strength-to-weight ratio than most natural fibers. This makes them particularly durable against any weight stressors and ensures their longevity against wear and tear.
However, synthetic fibers are notorious for being difficult to repair on the field. This has caused many survivalists who've primarily stocked up on synthetic fibers to be left in the lurch clothing-wise while on the field.
Synthetic fibers are also highly flammable, which-if you want to use them is a risk you'll have to take, especially in hot and dry field conditions
There are also material blends of the two for those looking for something with a little bit of the best of both (clothing material) worlds. But depending on the blend, this can either be a bad or a good thing.
Take nylon/cotton blends, for example. They look, feel, and breath like cotton but have a higher degree of durable strength. They also tend to be more flammable depending on the amount of nylon in the blend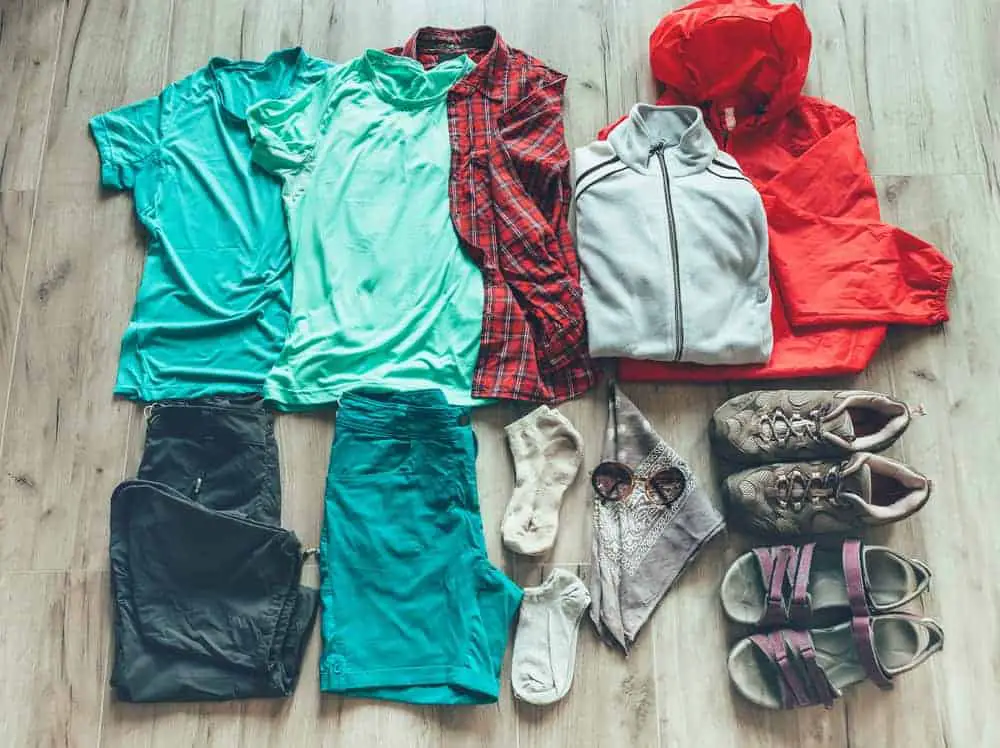 Is one type or make of clothing better for survival than others?
As stated before, when it comes to whether or not one material type of clothing is better for survival than another, the answer can go any way. To illustrate this a bit more fully, let's look at two of the most favored natural fibers and one prominent synthetic fiber: cotton, wool, and nylon.
Cotton's main characteristics include strength, inexpensiveness, breathability, being highly absorbent, and most importantly, comfort.
As a piece of outerwear, that is, as part of the outermost layer of clothing that you'll use to insulate yourself, cotton is very useful, especially as part of a natural/synthetic blend.
As a base layer, though, it can be dangerous, as its highly absorbent nature will seal in your sweat and hold it close to your skin, removing body heat.
When it comes to wet conditions, it's also very absorbent and therefore very unhelpful while keeping dry. With the right natural/synthetic blend, this can be remedied. Around fire, it's fairly safe to wear, though it must be noted that it isn't exactly fireproof.
Wool is another natural fiber with variable strengths and weaknesses. Its' main strengths include its high heat absorption, which traps warmth even when you're wet.
It wards off any possible bacterial infections, is resistant to odors, is more resistant to flames, and is comfortable and moderately strong.
As outerwear during winter or similarly cold conditions, it's pretty much a staple among survivalists. When worn as an outer layer, the only problem with wool is that its weak strength against abrasion means that the material can quickly develop wear spots, which then becomes a problem against cold weather.
A base layer wool is very much up to the task, as it can easily regulate your temperatures. It might feel a bit itchy, though, and depending on how sensitive you are, this might sway your decision against it.
Wool is good at absorbing water, keeping it away from your skin. It's very safe to wear around fire and not very flammable since it will simply turn to ash if it catches fire.
Nylon, the most prominent synthetic fiber is strong, is fairly lightweight, has a high degree of abrasion resistance, is affordable, absorbs significant amounts of water, has a flexible strength, and melts with ease. Still, it can be dangerous when exposed to extreme heat or an open flame.
As outerwear, nylon is one of the best for most survivalists except for its extreme lack of resistance to fire. As a base layer, it's solid, except for, once again, if you're around fire.
With water, its performance is mainly determined by whether or not you'll add a layer of coating or finish to it. Once more, against fire, it is highly recommended that you stay vigilant at all times as nylon will shrink when exposed to extreme heat and cause nasty burn marks on your skin if used as a base layer.
Conclusion
Shows like Doomsday Preppers, Naked in the Wild, and the Bear Grylls' series of survival shows have helped raise the survivalist movement's regard in the public consciousness.
This, coupled with the "back to nature" health movement and general positive regard for the simple pleasures of nature, has seen interest in being in the outdoors skyrocket.
But, as with any endeavor, there are problems associated with going into the wild. The natural world is a cold, unforgiving, vast, and objectively cruel place without regard for lack of preparation.
The best way to ensure that you guard yourself against the dangers found in nature is to come prepared. And the best thing that you can do for yourself regarding preparedness is to ensure that you have the right blend of clothing to keep you from harm.
References