Getting started in martial arts or any other activity can be both fun and intimidating due to all the new things you have to get used to and gear you have to buy. Even as an experienced fighter, getting the right gear at good prices can be a challenge. So where are the best places to buy Jiu-Jitsu Gi online?
Here is our list of top 5 websites to buy Jiu-Jitsu Gi online:
We'll go into details now as to why we chose each of these websites and also cover a lot of FAQs that you might have about buying, cleaning, maintaining, etc. your Jiu-Jitsu Gi. So read on.
Who makes the best Jiu-Jitsu Gi?
This is a very subjective question because it's ultimately up to each fighter to consider which kimono is the best to use for them.
The best kimono is the one with:
the best cut
a good fit to the body
the most comfortable
does not shrink too much
good quality
From my experience, and from the fighters I consulted with, it was unanimous that the best Gi brand available on the market today is Atama. Everyone considers the Atama kimono not only as the best in terms of the characteristics mentioned above but also the best in terms of cost-benefit.
Some common questions answered about Jiu-Jitsu Gi
A few years ago, most people didn't care much about the hygiene of their kimono, let alone the mats, but that has all changed. The Jiu-Jitsu community is much more vigilant today when it comes to taking care of their Gi. The Jiu-Jitsu Federation has also put out some rules and protocols that are recommended to be followed to ensure fighters' safety.
What should I wear under my BJJ Gi?
In the past, Jiu-Jitsu fighters did not wear anything under their Gi, which bothered most students, especially women, as it caused a lot of friction and contact with the body due to sweat.
This led to some academies deciding to adopt the use of lycra shirts, also known as rash guards, to be worn under the kimono, and many used lycra shorts instead of underwear as well.
Up to a few years ago, many fighters wore surfing second skins. However, today, there are many different brands of rashguards for Jiu-Jitsu fighters to choose from.
Does Gi color matter in Jiu Jitsu?
The classic colors of Jiu-Jitsu kimonos have always been blue and white, just like in judo. However, over the last few years, various different colors of kimonos have been adopted by fighters to train with.
There are black, red, green, gray, and even camouflaged kimonos.
For official competitions, only white, blue, and black kimonos can be used. The rest of the colored kimonos are only for certain groups within the academy.
But overall the color of the Gi doesn't really matter that much in Jiu-Jitsu when training.
Is No Gi better for self defense?
Obviously, in a real combat situation, no one uses a gi to defend themselves or attack an aggressor. For this reason, it is also very important to train with No Gi, as it will make you more familiar with real-life situations.
Bearing in mind that each type of training complements the other, carrying No Gi does not mean that it is better for self-defense. The important thing is to practice both styles, Gi and No Gi.
For more on whether Jiu-Jitsu can teach you how to fight and defend yourself in real-life combat situations, check out our article on that here.
Is Gi or No Gi harder?
As previously mentioned, one workout complements the other. A No Gi workout will adjust some positions of a Gi training and will help you to learn more positions that you normally wouldn't be aware of because of the Gi, in addition to improving your base knowledge and skills considerably and strengthening your movements.
The two styles, Gi and No Gi, when well applied, are very efficient in very similar ways.
How often should you wash your Gi?
Your kimono should be washed almost daily, depending on how many you have.
Ideally, a kimono should be cleaned every day after use, to prevent the accumulation of bacteria. However, if you have two or more kimonos, you can vary the cleaning, for example, one day wash one and use another, and so on.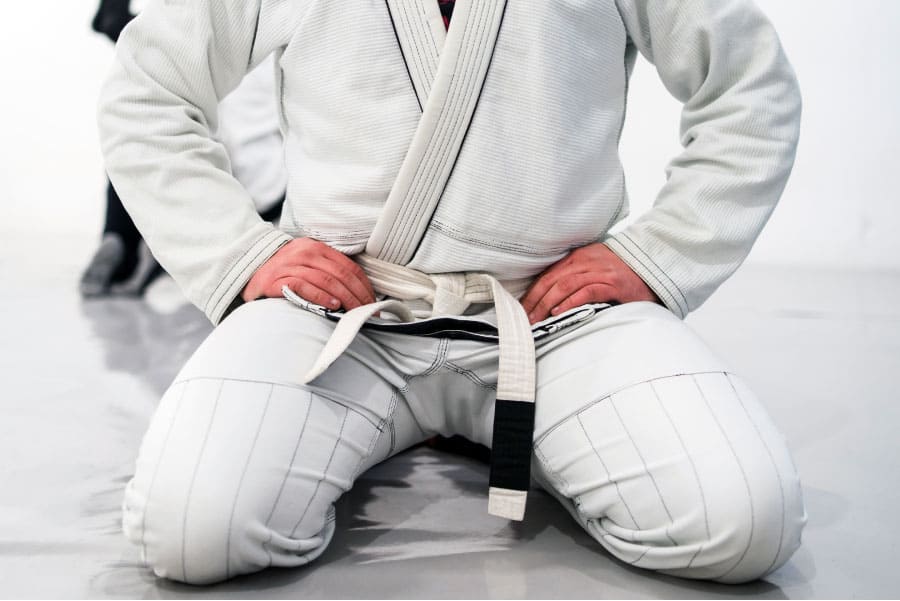 Should I wash my Gi belt?
There is an old tradition that the belt carries the essence and spirit of the Jiu-Jitsu fighter and the sweat of all battles. Many say that the belt should never be washed so that this essence is never lost.
But nowadays, the hygiene of the mat and that of the whole kimono is highly valued as it accumulates a lot of bacteria if not cleaned and washed regularly.
Cleaning the belt is not mandatory, and it is everyone's individual responsibility.
For me personally, I never wash my belt because I still believe in the spiritual tradition of the fighter and his/her belt.
How do I clean my Gi for the first time?
There are several ways to clean your Gi for the first time. Many use good washing powder, others use a combination of washing powder and disinfectant, and some use a simple coconut soap.
Currently, the best way to wash your Gi, as recommended by most Jiu-Jitsu fighters, is to wash it with vinegar and baking soda in the washing machine. Baking soda and vinegar is the most effective way to eliminate the bacteria and smell from the Gi.
However, what you should never use is bleach. In addition to fading the kimono, it will also destroy the cotton fiber, and therefore, damage your kimono and severely shortening its lifespan.
What should I wear to my first Jiu Jitsu class?
The best recommendation of what to wear to your first Jiu-Jitsu class is just a normal sports outfit. However, some gyms or academies will provide you with a Gi for your first practical class.
Right after the first class, its usually the responsibility of the teacher to offer you a kimono from the academy itself or inform you where to get one, especially if it is a franchise, cause the kimono will bear the logo of the academy that you are a part of.
It might also be the case that the teacher is sponsored by a particular brand of Gi and can offer students a discount on that brand.
Each gym or academy will also have its own rules regarding the color/colors of Gi that you are allowed to use.
How many Gi should I own?
It is ideal to have at least 2 kimonos. While one is being used, the other is being washed.
You can easily find affordable and cheaper kimonos, which will allow you to buy more than 2 kimonos.
While it is recommended for Jiu-Jitsu students to have at least 2 kimonos, professional fighters, most of who usually have sponsorships, will have an average of 10 kimonos.
How do I keep my Gi white?
Always keeping your white kimono clean is the main thing, but to keep it white, you need some care.
Wash with good washing powder or coconut soap
Always use a little disinfectant to eliminate bacteria
As mentioned before, most fighters recommend washing your kimono in a washing machine with baking soda and vinegar, as it eliminates the bad smell and bacteria that accumulate in the Gi. This will also help to keep it as white as possible.
Can I tumble dry my BJJ Gi?
Never use machines to dry your Gi. In addition to shrinking the Gi, it will damage the fabric, further reducing the lifespan of your Gi.
What temperature should I wash my Gi?
Always use cold water or at room temperature, as hot water removes the color of the kimono and can also cause it to shrink.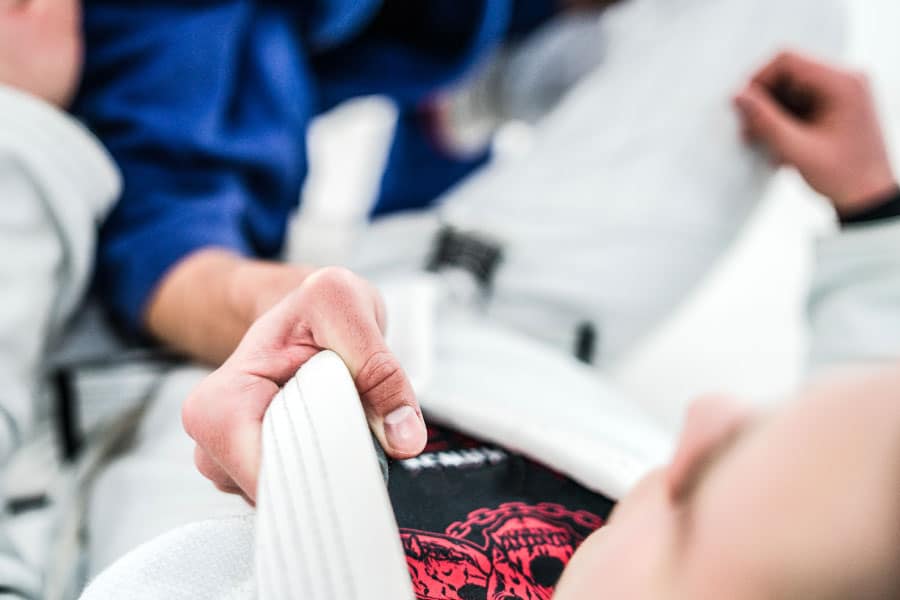 How long does a Gi last?
The life span of your Gi will depend on how much it is used and washed.
If you have only 1 kimono, train almost daily and wash it frequently, it will last for an average of 6 months, potentially reaching up to 1 year, but with quite a bit of damage.
As previously mentioned, it is recommended is to have 2 or more kimonos.
How long does it take for a GI to air dry?
A kimono should be dried in an airy place, preferably away from the sun. A kimono dries faster in the sun, but fades and dries out the fabric. In a hot climate, a kimono would dry in approximately 1 hour, and in a colder climate, the drying process can take up to 24 hours.
How much can you shrink a BJJ Gi?
It is important to note that every kimono shrinks and some brands already sell pre-shrunk kimonos for the best fit.
After washing, the Gi always shrinks, but as it is used, it stretches a little more again. A kimono will always shrink according to its use and how much it is washed.
There is a lot to be said about the type of cut of a kimono and how that influences shrinkage, so it is always better to check if the cut is slim or traditional, because both are different after washing.
The shrinkage limit of Gi is usually 3% of its normal size.
How do you know if your Gi is too big?
There are two types of kimonos cuts, the slim cut and the traditional one (which is wider). You will know if the kimono is too big, similar to normal clothes, when the sleeves of the Wagui (the traditional name of the top of the kimono) are passing over your fingertips. The same as when the Shitabaki (the traditional name given to pants) is passing over the tips of your toes.
But there are specific sizes of the Gi, for children and adults, and the teacher will know which size is best for any student.
How do you make a Gi softer?
Many traditional Brazilian Jiu-Jitsu academies preached that the kimono had to be hard and rough.
Most of the time, this type of kimono hurts the face, burns knees and elbows, and causes damage to the ear, which is traditionally known as the cauliflower ear.
Today, times are different. Although some schools maintain this tradition, most gyms and academies aim to be more professional and have various protocols in place for Gi to be more comfortable.
But to keep the kimono soft, it is recommended to use fabric softener, as used with any other clothing. However, if used too often, it can damage the fabric of the kimono.
Where to find the best Jiu-Jitsu Gi online?
Here's our pick of the top 5 websites (in no particular order) where you can buy Jiu-Jitsu gi online.
Note: This site is a participant in the affiliate programs of all of the below websites and we are compensated for referring traffic and business to the respective websites and other companies linked to from this post.
As mentioned before, Atama is the best Gi brand on the market, in my opinion, and the other fighters in the Jiu-Jitsu community that I consulted about the same.
The Atama brand was established in 1989 and is one of the leading fight wear brands in the world.
Their Jiu-Jitsu Gi is designed to be very high quality, comfortable, durable, and a perfect fit for both competitions and training.
Fun Fact: The word 'Atama' originates from Japanese and means head, mind, and intelligence.
Click on the below link to explore the Atama Europe website to shop for your favorite Jiu-Jitsu Gi.
Tatami Fightwear is another one of the leading Jiu-Jitsu Gi brands in the world, providing great quality Gi, Rash Guards, and MMA gear.
Tatami Fightwear also sponsors athletes like Michelle Nicolini and JT Torres.
Similar to Atama, Tatami Fightwear makes very high quality, comfortable, durable BBJ Gi that's great for both competitions and training.
Click on the below link to explore the Tatami Fightwear website to shop for your favorite Jiu-Jitsu Gi.
https://www.tatamifightwear.com
Century Martial Arts were established in 1979 and one of the first Martial Arts companies to create a website where customers can buy gear and access digital resources.
Century Martial Art's founder, Mike Dillard, competed in Martial Arts events and competitions during his time and won two Karate National Championships. Other employees of the company are also instructors themselves or even own martial arts academies.
Again, Century Martial Arts also has great collections of very high quality, comfortable, durable Gi, great for both competitions and training.
Click on the below link to explore the Century Martial Arts website to shop for your favorite Jiu-Jitsu Gi.
https://www.centurymartialarts.com
Elite Sports was also established by veterans of Martial Arts, with the goal of providing the industry with premium products and at more affordable rates and ultimately giving customers better value for their money.
Their Gi is designed with "heavy-use" in mind and similar to the others on the list, they offer a collection of very high quality, comfortable, and durable Gi, great for both competitions and training.
Click on the below link to explore the Elite Sports website to shop for your favorite Jiu-Jitsu Gi.
Amazon doesn't need any introduction as it is one of the biggest brands on the planet today. You can find almost anything you need on there at any given time, and when it comes to Jiu-Jitsu Gi, it's no different.
You can easily find a wide variety of products sold by various different companies and smaller vendors, compare prices, check the reviews to see what others are saying about the products and add it to your cart along with the other goodies you regularly buy from Amazon already.
Click on the below link to go to Amazon to shop for your favorite Jiu-Jitsu Gi.
Conclusion
The Gi is an important part of Jiu-Jitsu, and keeping it clean is essential!
Always have two or more kimonos, and make sure to keep them clean.
Choose the kimono that is the most comfortable for you and the best fit for your body.
Always practice Gi and No Gi, as both complement each other and are very efficient when applied well.
Do some research before purchasing your first Gi.
Today there are several brands of kimonos around the world and you can use our guide of top 5 to buy your Gi from!