Being tall doesn't just come with all of its advantages in your personal and professional life. Sometimes, as taller people, you also need to put a lot of thought into the activities and sports you do. In terms of martial arts, you might be wondering what is the best martial art for you to do.
There is a definite answer to this question, and in my experience, Boxing, Kickboxing, Muay Thai, and Taekwondo are the four best martial arts that tall people can do. From the list, I am sure that you can tell that all of these martial arts take advantage of the longer reach that being tall affords you.
There is more to it than just the reach advantage that you get from being taller. In this article, we will break down why each of these martial arts is best for taller people. So, for everything you need to know, keep reading, and we will answer all of your questions in the article below.
Best Martial Arts For Tall People: Top 4
I know that people tend to ask these kinds of questions a lot. After all, we tend to want to do something that is best suited for our needs, and with tall people, I fully understand why you would want to pick the martial art that is best for you.
So, we decided to make a top 4 list of best martial arts for you to do as a tall person. One thing that I would like to note about the list is, it is in no particular order, although I do recommend choosing between either boxing or taekwondo if you are taller.
For now, so let's get into our top 4 best martial arts for tall people.
Boxing
I want you to think, just for a second, what would gain the most advantage from you being taller than your opponent? Just before you start thinking, I am going to give you the answer. It is your reach that will be the biggest advantage. 
Because of the reach advantage that you get from being taller, boxing is the perfect martial art or combat sport for you to do. The longer arms will help you not only in your training and sparring but it will also help you if you decide that you want to start having a few fights in the ring.
One important thing that I would like to note is, just because you are taller and you have that reach advantage, it does not mean that a short person can't get in at you. Oftentimes, you will find that shorter opponents have more striking power than their taller counterparts. Let's not forget what Smoking Joe Frazier once did to the great Muhammad Ali even though Fraser was a lot shorter.
And on that note, let us not forget what Mike Tyson, who, at 1.78m was shorter than most of his opponents, was able to do to those opponents. In general, taller people seem to always have an advantage in the ring.
Amateur Boxing Weight Divisions
When you go to boxing classes, you will train with people of all sizes and weights, but the minute you start stepping into the ring to Spar, you will normally Spar with people in your weight division. Sparring doesn't necessarily mean that you will get ready for a fight; it just means that you are going to put your skills to the test.
So, here is a table of all the weight classes within amateur boxing.
Kickboxing
Now that we have discussed boxing and the advantage you will get from being taller if you decide to take boxing. Now, what if we apply that reach advantage to your arms and your legs? This is where kickboxing comes in.
Kickboxing is a great martial art for taller people because being taller often allows you to keep your distance while still being able to strike your opponent. This advantage becomes even greater if your opponent is shorter than you.
Kickboxing Weight Divisions
When it comes to kickboxing weight divisions, it would be hard to create a table or give you a definite answer to what the weight classes are because almost every single kickboxing organization, tournament, or competition has its own weight divisions.
What we can say is that the weight divisions are similar to boxing, but the specifics do vary. So, if you take a look at our boxing table, you should get a rough idea of what the weight classes are.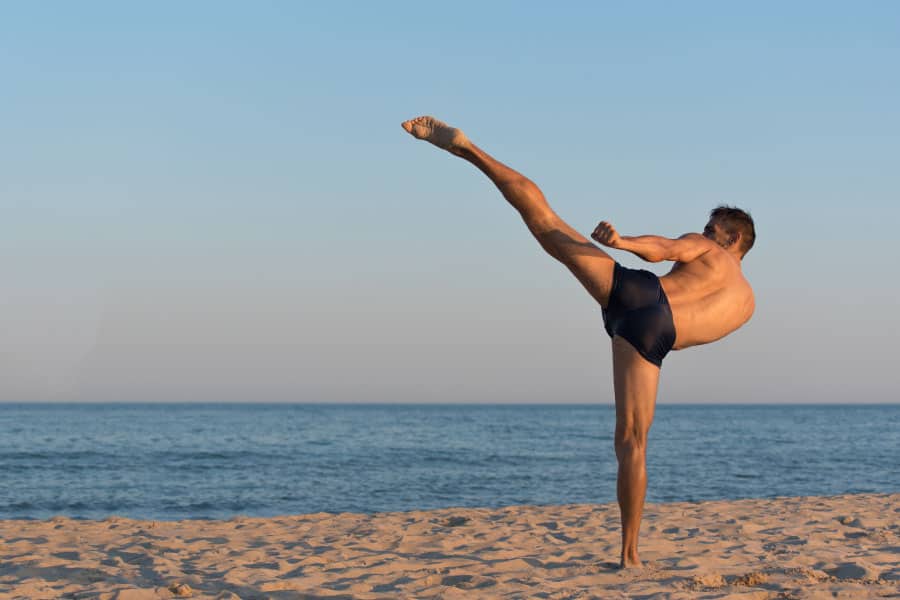 Taekwondo
If you have read any of our articles on this website, you will know that it is no secret that I am a huge fan of Taekwondo. For me, the sport just highlights how great human beings are when we put our minds to something.
Having a height advantage in taekwondo is great because, yes, it does give you a reach advantage, but it also makes it harder for your opponent to land some of the maneuvers that taekwondo teaches them. For example, a flying butterfly kick is harder to perform when the opponent is much taller than you.
Taekwondo Weight Classes: Olympics
For the weight divisions of taekwondo, I decided to go with the Olympic weight divisions. This is because the Olympics is the main event where Taekwondo competitions take place.
| | | |
| --- | --- | --- |
| Weight Division | Men | Women |
| Heavyweight | Unlimited | Unlimited |
| Welterweight | 80 kg (176.1 lb) | 67 kg (147.7 lb) |
| Featherweight | 68 kg (149.9 lb) | 57 kg (125.7 lb) |
| Flyweight | 58 kg (127.9 lb) | 49 kg (108 lb) |
Muay Thai
Muay Thai is very similar to kickboxing. In fact, it goes by the nickname of Thai boxing.
Muay Thai is very good for people who are taller. The reason for this is the same reason as with boxing and kickboxing. Having a longer reach with your arms and with your legs is a huge advantage when your opponent is shorter than you.
Having that reach advantage does not mean that you can take it easy in your training. You still need to train as hard as you can.
Muay Thai Weight Classes
Remembering that you won't necessarily be fighting if you are doing Muay Thai, I think it is important to understand what weight class you will fall into if you find yourself in a position where you want to have a friendly match against an opponent.
The weight divisions, much like with kickboxing, vary depending on which organization you are fighting under. These weight divisions are similar to boxing as well, but because there are so many organizations, it won't be easy to give you a specific answer. I would not let something like "weight class" throw you off, though.
Best Martial Art For Tall Women
The last thing I want is for the ladies to think that we forgot about them, and, as the title of this article explains, we are talking about the best martial arts for tall people. So, everything that we spoke about above includes women. Just in case you skimmed through the article to get to this section, here is that list of the best martial art for tall women.
Boxing
Kickboxing
Taekwondo
Muay-Thai
Conclusion
That brings us to the end of this article, and I would just like to end on one final note.
While there is a sport that is best for you, depending on your body type, size, and weight, I always tell my students that they should not be discouraged from doing anything that they want to do based on this. Always choose the martial arts that you think is best for you mentally.
Other articles in this series:
Best martial art for a small person.
Best martial art for skinny people.
Best martial art for big guys.
Best martial art for overweight people.
Best martial art for bodyguards.
Best martial art for women to learn.
Best combination of martial arts for MMA.