Taekwondo is the martial art that uses butterfly kicks and spectacular flying kicks. It is a martial that emphasizes combat with the legs, and although it looks dangerous, it isn't. That being said, it is one of the most popular martial art forms in the world right now, especially in the United States. Why though, and what makes taekwondo so popular?
There are plenty of reasons as to why Taekwondo is so popular. Mastering Taekwondo opens a lot of doors, it has physical benefits, a lot of parents push their kids into the sport, it's a very rewarding sport that not only feels good when performed but looks good when performed as well. Movies also played a large role in popularising the martial art, especially in the west.
To get a good idea as to why Taekwondo is so popular, we need to take a deep dive into the reasons. Whether you are curious, looking to pick up a new sport, or whatever reason may be, you have come to the right place. These are our top 5 reasons why Taekwondo is so popular.
What is Taekwondo
First, we need to start by talking a little bit about what Taekwondo is. This will help us better understand each point.
Taekwondo is a Korean combat martial art that is strike focused. It places a heavy emphasis on kicking techniques. The art form isn't that old, as it was developed in the 1940s and introduced globally in the 1960s. Taekwondo is inspired by other martial art forms, such as karate.
There are five tenets (rules) that get taught in Taekwondo. The Tenets should be followed at all times because one thing that Taekwondo teaches us is discipline. Below is a list of the Tenets:
The Five Tenets of Taekwondo
Integrity
Courtesy
Self-control
Perseverance
Indomitable spirit
Those five rules are actually part of one of the reasons why the sport is so popular. For now, let's learn a little bit more about Taekwondo.
How many people do Taekwondo
Across almost 200 countries, it is estimated that around 70 million people do taekwondo. The number is staggering, especially when you consider that taekwondo is just one type of martial art out of many.
Taekwondo in the military
In South Korea, Taekwondo is taught as part of military training. When you consider that military service is compulsory in South Korea, that gives you a broad idea of just how many Koreans know Taekwondo. Just keep that in mind if you ever find yourself in a confrontation with someone from South Korea.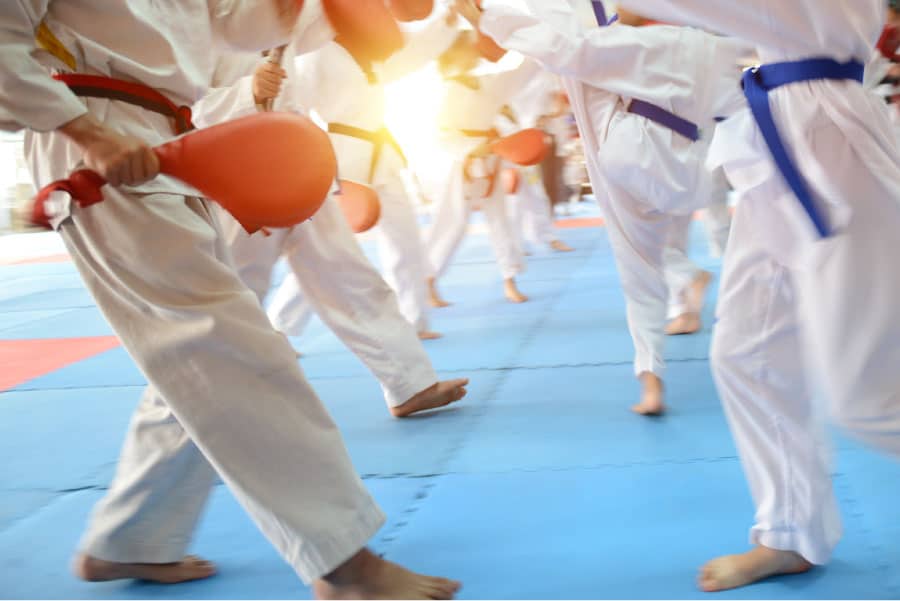 5 reasons why Taekwondo is so popular
Ok, let's get to the exciting part of the article and take a look at the 5 reasons why Taekwondo is so popular:
1. Taekwondo movies
Whether it is Hollywood, the Asian film industry, Nollywood, or even Bollywood, Film and TV can play a huge influence on the popularity of a sport within a region. We see this a lot with Martial Art movies, and this was especially true a few decades ago. I have chosen two movies that I believe helped kickstart the popularity of Taekwondo in the early 1990s.
Best of the Best
This 1989 film was directed by Bob Radler, and it stars James Earl Jones, Sally Kirkland, and Eric Roberts. This is one of the most popular Taekwondo movies around and can take a lot of credit for raising awareness of Taekwondo in the west.
Ironheart
Released in 1992, this cult classic was directed by Robert Clouse and starred the incredibly talented Bolo Yeung. This fast-paced martial arts action movie has some fantastic displays of Taekwondo.
2. Parents push their kids into Taekwondo
There are various reasons why parents would want to push their children into taekwondo. In fact, one of those reasons is because of those tenets we discussed earlier. It is natural for parents to want the best for their children.
Taekwondo, with the discipline, self-control, integrity, and courtesy that gets taught, helps children to develop good characteristics to take into adulthood.
Not only does taekwondo help children develop good characteristics, but it's also something that allows them to let out a bit of steam and a medium to blow off some stored energy. It also teaches them how to defend themselves.
Some people might be thrown off the thought of how dangerous taekwondo can be. I can assure you; Taekwondo is not actually dangerous. It is one of the safest martial art forms there is.
Crazy, right? Especially when you picture people kicking each other in the head, but that is not what the sport is about.
3. Taekwondo keeps you fit
In the current day and age, we are spoilt for choice when it comes to choosing hobbies and ways of keeping fit. Everything keeps becoming more accessible and convenient. Taekwondo offers something that most other sports, hobbies, and training doesn't.
Taekwondo is an excellent way of keeping physically and mentally fit. It also teaches you how to defend yourself. That's one of the reasons why Taekwondo keeps growing because people are knocking two birds with one stone.
The sport forces you to use all your muscles. It is, after all, a stand-up combat sport. It works your core, which in turn, helps burn fat efficiently. The intensity helps develop muscle tone as well.
4. Taekwondo tournaments
Taekwondo tournaments play a huge role in the popularity of the sport. There's nothing like seeing some of the best in the world do what they do and go up against each other.
When we watch these events and tournaments, it makes us want to go out and test ourselves. Even if we don't go out and take up the sport for ourselves, we can still be fans and supporters, and taekwondo has a lot of fans, trust me.
Millions of people from all over the world tune in to watch Taekwondo tournaments.
There are Taekwondo tournaments constantly happening all over the world. The biggest being the world championship. The current world champion in 2020 is Bae Jun-Seo from Korea.
5. MMA and UFC
Taekwondo specialists are known for producing spectacular moments in the UFC and MMA. The thing is when they do something great, the video clips get shared across the world, even to people who have never had an interest in the sport. These clips generate a lot of "hype," and they have the capability of introducing new people to the sport.
The UFC also generates a lot of live spectators via TV and crowds. These people are generally already interested in fighting but get exposed to Taekwondo, and it is one of the most entertaining forms of fighting to watch.
The best MMA Taekwondo fighter
This can be completely subjective. It is not always about who has won the most tournaments. In my opinion, the best Taekwondo specialist in the UFC is Anthony Pettis. He has produced some truly unforgettable moments with his kicking ability and his experience.
Anthony has given me some of my favorite MMA and UFC moments while watching the sport.
Conclusion
Those are just a few reasons why Taekwondo is so popular. The sport keeps growing, and recently that growth has shot up.
Taekwondo is a stand-up combat sport that is strike focused. Although there is a heavy emphasis on kicking, it also includes open hand striking, fists, and forearm blocking.
The sport is great for kids as it is not dangerous and can teach kids a lot of good character-building skills. It is also a great medium for kids to let out their frustrations in a safe and supervised environment.